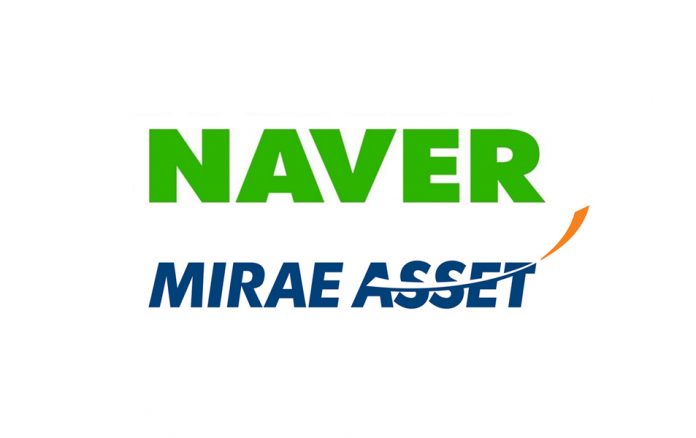 NAVER is establishing 'NAVER Financial Inc.' (provisional) to enter the financial business. It is establishing a subsidiary, planning to target fintech market further aside from the existing simple payment gateway service company 'NAVER Pay' with Mirae Asset as the strategic partner.
The plan is to soar as the 'everyday financial platform.' It is expected that NAVER, who has been passive in the financial business, is changing its business strategy to participate in the keen competition of the hyper-growing mobile financial market with other rivals such as Kakao.
NAVER has announced that they will divide NAVER Pay CIC (Company-In-Company) to establish 'NAVER Financial Inc.' (provisional) on July 24. NAVER is planning to commence the NAVER Financial by November 1 after a resolution process of a general meeting. Choi Inhyeok, who has generally been managing technology, service, and business of NAVER, is likely to be the CEO of Naver Financial. NAVER has announced that Choi is chosen because he will draw maximum synergy between IT and financial service based on his various experiences concerning internet services and deep understanding of IT. Naver Financial is expecting a total investment of 5 trillion KRW from their strategic partner, Mirae Asset.
Personnel of NAVER said that although the details regarding the investment are not confirmed yet, they have agreed on the investment of more than 5 trillion KRW with Mirae Asset. The official investment may be conducted after November when the company is incorporated. NAVER has been maintaining the strategic partnership with Mirae Asset in the financial field since 2017.
Two partners will start the business in 'TechFin' market. They will combine the IT power of NAVER and financial know-hows of Mirae Asset to gaim comparative advantage. TechFin is similar to the existing fintech market in the sense that IT and financial business are combined. However, the word techfin emphasizes the role of the tech. Although NAVER had limited itself when they said, "We have no plan to establish a bank as Kakao," they will launch various financial services regarding insurance and securities to lead the techfin market.
Especially, as they have the simple payment gateway service NAVER Pay, it seems that other various services will add on to it. NAVER Pay has been improving payment convenience by renovating user experiences related to the membership signing, sign-in, and delivery inquiries. As a result, the payment number per month of NAVER Pay exceeds 10 million.
A person in concern of NAVER explained that payment gateway involves the more active participation of users than the case of money transfer because it involves shopping. The new corporation will take the relevant experiences to more fun and more accessible level for users.
As NAVER has jumped into the financial market, their competition with Kakao in the Korean market is expected to be more severe.
Kakao has already expanded in the relevant field with various services such as the internet specialized bank 'Kakao Bank' and simple payment based life finance service 'Kakao Pay'. Kakao Pay is especially providing various everyday life services such as insurance, securities, utility bills, and deliveries.
The industry is focusing on the appointment of Choi Inhyeok, who has majored in engineering rather than finance. It has a symbolic meaning that NAVER is launching technology-led financial service, TechFin, not the finance-led FinTech. The convergence of finance and IT is becoming more common in the market. It led different financial services to penetrate the everyday life of customers.
As NAVER Financial is starting with only 5 billion KRW as its capital, Mirae Asset is likely to participate in the form of capital increase. A person in concern of Mirae Asset said that specific amount and moment would be confirmed in the process afterward. This decision may be interpreted as in three contextual reasons: preparation of new growth engine; securing new investment opportunity; and strengthening the strategic partnership with NAVER. Mirae Asset Group is promoting the payment gateway service as the new growth engine. For instance, Mirae Asset has registered the payment gateway business called 'simple payment' in June, which is the first time among all securities firms in Korea.
Meanwhile, Mirae Asset is trying to cooperate with Tencent as their first project in the payment gateway business. Chinese people visiting Korea will use WeChatPay of Tencent, and Mirae Asset will support retails of Korea as well as the whole process. The service will start somewhere between August and September.
Another person in concern of Mirae Asset Group said that the partnership with NAVER Financial is also a part of the long term project in the payment gateway business. The payment service connected to a debit card and CMA will soon launch as well.
The investment decision also means Mirae Asset is seeking new investment opportunity. A person in concern of the group said that CEO Park Hyeonju has been emphasizing the investment of innovative corporations. We have decided the investment based on the innovativeness of NAVER Financial.
Mirae Asset Daewoo and NAVER have been maintaining the strategic partnership since 2016. It began as they mutually raised 1 trillion KRW for the 'new growth fund' in December 2016. They have agreed on a mutual share investment of 5 trillion KRW the next year, and together raised 'Asia growth fund' last year. These two companies are still enhancing their cooperation in the simple payment field as well.
Nam GIhyeon (2019. 07.25.) 네이버, 금융업 뛰어들었다…핀테크 활용해 보험·증권 진출
Maeil Business, retrieved from https://www.mk.co.kr/news/business/view/2019/07/562338