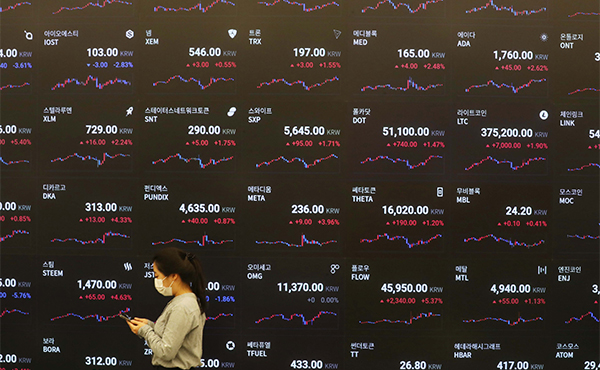 Many retail investors are feared to fall prey to what appears to be an irrational bubble of some virtual assets amid a burgeoning cryptocurrency market frenzy in Korea.
Even if more and more people from all age groups here jump on the cryptocurrency boom, the speculative and volatile nature of most cryptocurrencies remains in place, something the country's financial watchdogs consider highly risky.
"All of the nation's 200 cryptocurrency exchanges could be shut down after September once a special financial law takes effect," Financial Services Commission (FSC) Chairman Eun Sung-soo told lawmakers during a National Assembly general meeting, Thursday. "We are now accepting applications for them to officially register their business by the timeline, but no exchange operators have applied to date."
Arowana Token, which made a debut at a Seoul-based exchange Tuesday, grabbed the attention from investors explosively, after its valuation soared more than 1,000 times only about half an hour after trading started.
But the digital asset soon took on a rollercoaster ride. As of 9 a.m. Thursday, its price had plunged to 21,760 won ($19.48) per token, down 26 percent from a day earlier.
Bitcoin is maintaining a higher valuation amid its unprecedented super-rally in recent months; but its value recently fell below the 60-million won mark after hitting a record high of 81.48 million won April 14.
The financial authorities have warned of introducing some regulatory measures to block any possible money laundering using such virtual assets. However, the regulatory pressure does not appear to be dampening investor sentiment for the time being.
According to data from the FSC, the number of real-name accounts from the nation's top four cryptocurrency exchanges came in at 2.5 million as of the end of February, doubling over two months.
The nation's cryptocurrency boom is led by those in their 30s. The younger age group is particularly paying attention to virtual asset investments, just as they did to the stock market here amid historically-low interest rates and coronavirus market liquidity.
"Those in their 30s or the younger generation are increasingly interested in making cryptocurrency investments as part of their efforts to increase the amount of seed capital before making real estate transactions," a 36-year-old office worker surnamed Park said.
"Housing prices have surged over the past few years, and newlyweds or the younger age groups are losing hope of purchasing a home only with their seed capital and bank loans, so more of them appear to be purchasing cryptocurrencies as an alternative investment," he said.
이민형(2021.04.23) Cryptocurrency frenzy in Korea unnerves regulator, investorss
retrieved from https://www.koreatimes.co.kr/www/biz/2021/04/175_307635.html?gonw