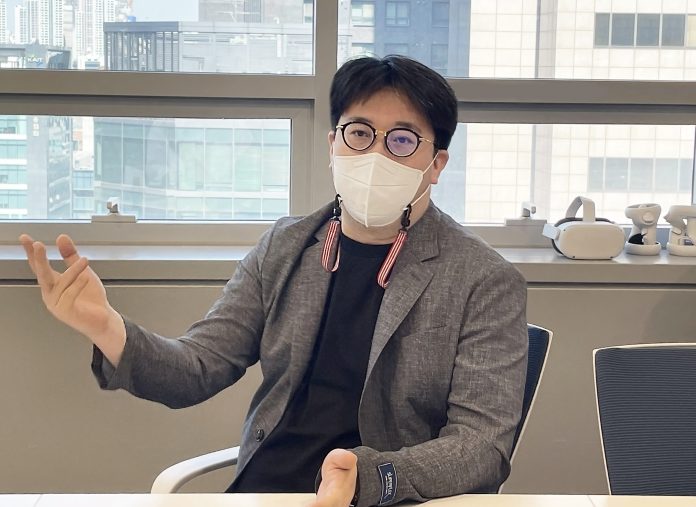 "At present, foreign investors should be allowed to enter the blockchain project, where entry of foreign investors is blocked. Instead, individual investors should be allowed to be limited to minimize risk exposure."
Choi Seong-won, chairman of the blockchain business cooperative, said in an interview with recently held at the Supertree office, predicting the future of blockchain technology with his views on his virtual asset craze.
"We need to allow foreign investors to enter the'private sale' for domestic virtual asset providers"
Recently, in the domestic asset market, virtual asset investment fever is blowing. The growth trend is so steep that the average daily transaction value of the four major domestic virtual asset exchanges exceeds the transaction size of the KOSPI market. Interest in investing in virtual assets is not expected to cool down for the time being, as the demand to avoid the "thunderbolt beggars" along with the sentiment of becoming a so-called "thunderbolt rich man".
Chairman Choi pointed out the negative as well as the positive aspects of the virtual asset fever. Chairman Choi said, "If we can provide user convenience and better service by incorporating blockchain technology into existing industries, it will be meaningful in itself."
"However, if the technology is not used to solve any problem, but it quickly emerges and disappears due to the virtual asset speculation craze, there is a problem," he diagnosed.
In particular, he said, "The government should lower the barrier to entry for SMEs handling virtual assets to receive foreign investment." "Currently, the Korean subsidiary has blocked the private sale of virtual assets to foreigners, but it must allow foreign investors, venture capitals, and hedge funds to enter the company," he said.
"This will be of great help to Korean small and medium-sized developers in creating jobs, developing technology, and expanding overseas markets."
In fact, in financially advanced countries such as Singapore, virtual asset private sales and public sales are banned from transactions by their own citizens. Instead, it opens the way for professional and foreign investors to make transparent and safe investments based on more accurate information.
Chairman Choi emphasized, "The investment of foreign investors is that Korea receives foreign capital, and small and medium-sized developers that use virtual assets create a virtuous cycle structure that increases sales-pays taxes-creates employment-and develops new technologies." did.
"Blockchain technology has the DNA of the 4th industrial revolution"
Chairman Choi thinks that blockchain technology is not very different from the 4th industrial revolution DNA (data, network, AI) that the current government is emphasizing. Chairman Choi said, "Data is important in blockchain as well, and it is an important factor for individuals, companies, and specific groups participating in the blockchain to create networks."
"AI technology is also used when creating applications," he said of the common between both.
Blockchain technology has already penetrated deep into our daily lives so that it can now be used as a virtual asset in convenience stores and accommodation facilities. Nevertheless, it is difficult to say that the blockchain industry has entered the institutional sphere due to all kinds of regulations.
For this reason, the government also promised government-level support through the Ministry of Science and IC for the promotion of the blockchain industry, but it falls short of the demands of the industry. The National Assembly also posted a block chain promotion law in September last year, but it has been suspended for several months.
Chairman Choi said, "The blockchain industry is a technology-based new service industry, and traditional industries can also use this technology to create better services."
"I think private business owners and the public have reached a social consensus on this, but it's a pity that the government, which has the power to make decisions, doesn't seem to take it seriously. "
"Expect synergy between blockchain companies through cooperative activities"
The Blockchain Business Cooperative is divided into 8 subcommittees including Future Planning, De-Fi, Corporate Growth, Game/Contents, Consulting, Technology Research, China, North America and Europe. Chairman Choi's goal is to create a synergy effect among members as each division has expertise.
Chairman Choi said, "I have a lot of responsibility and a lot of burden because I am the chairman at an important time." "There are many companies with good technology in each division. Sharing the know-how accumulated over the years will lead to synergy."
Above all, he is determined to show good examples in practical business areas. Chairman Choi stressed, "By exchanging with other cooperatives belonging to K-biz, the blockchain-based service industry will be able to explore new possibilities."