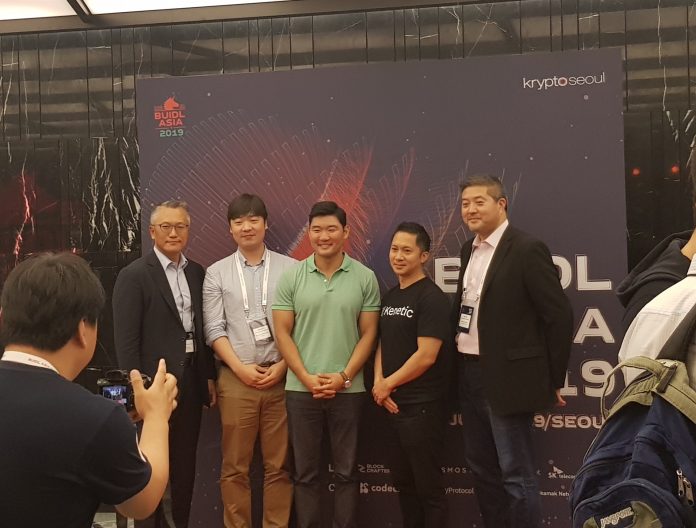 Bernard Moon, co-founder of SparkLabs Group; Jay Eum, co-founder of TransLink Capital; Jehan Chu, co-founder of Kenetic; and Ethan Kim, co-founder of Hashed spoke about investors approach to blockchain during a session in BUIDL Asia on July 23. They agreed that the next few years would be groundbreaking for many companies. Fintech and enterprise were two primary industries investors were excited. However, unlike the audiences of BUIDL Asia expected, investors stressed the importance of entrepreneurship and the ability to execute their idea as well.
Investors from major investment entities of Asia all believed that blockchain would be the next 'mobile.' They all seemed to think that the ecosystem of 2019 is ready for companies to incorporate blockchain into everyday service. Jay Eum from TransLink Capital said, "Twenty years ago it was the internet. Every new company was trying to become an internet company. Next came the mobile. I believe that in a couple of years, blockchain will be the technology so prevalent that the public won't even notice that blockchain is behind the service. Every company will incorporate blockchain into their service.'  Regarding the companies these days, Bernard Moon added, "I am really glad that the investment peak in 2017 has filtered out low-quality players. Companies perform much better in terms of UI, UX, and market adoption."
Regarding Korea and Asian market, investors believe that there are too many regulatory risks in these markets. Though there are great ideas and talents in Korea, from an investor's point of view, it is too risky. Unlike in the U.S., the Korean government believes that companies should be raised, like a kettle. Bernard added, "In the U.S., blockchain companies are capable of doing whatever they want unless they do not cross the borderline set by the government. It is not the case in Korea." Investors agreed that these factors make the investment in Korea based companies riskier.
During the Q&A session, people's interest was centered on the viability of their technology. However, Chu stressed that the technology is not what matters. "It's a small part of what we are looking for. Sadly, it is not even the largest one," he said.", he said. He added that ability to execute, and experience is what he regards relevant when making an equity investment. He believes that entrepreneurs, hopefully with an exit experience are what he is looking for.  They seem to have a sort of muscle memory of execution, and that is what he feels is the most important. Four investors agreed, stressing the importance of the agility. Kim added, "Making the right partnerships with the right companies and developing a strong fanbase is what matters."