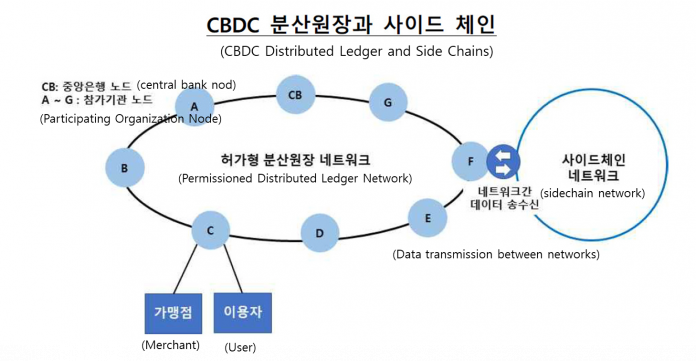 The Bank of Korea, which is negative for virtual assets such as Bitcoin, has begun to take a positive approach to some virtual assets with intrinsic value. It has been confirmed that they are researching ways to include digital assets with intrinsic value in the range of virtual assets that can be purchased with 'Central Bank Digital Currency' (CBDC).
A BOK official said on the 3rd, "We are researching how to exchange NFTs such as artworks and copyrights with CBDCs."
"Virtual assets with a coin concept such as bitcoin are not considered as exchange targets for CBDCs," he said.
The BOK, which is scheduled to start the CBDC simulation in August, plans to limit the virtual assets that can be purchased to non-fungible tokens (NFTs) that have intrinsic values ​​such as digital art and copyright. To this end, the BOK is researching a technology that can trade digital assets that exist on different blockchains through a 'sidechain', a separate distributed ledger network connected to the CBDC distributed ledger network.
Some predict that if the BOK's CBDCs are actually issued and distributed, the range of exchangeable digital assets will further expand. In particular, it is expected that exchange with private digital currencies such as Bitcoin, which plays a de facto key currency in the virtual asset market, and Ethereum, which provides a technical basis for NFTs through the 'smart contracts' function, will be made.
An official from the virtual asset industry said, "In a situation where the government does not recognize Bitcoin as an official asset, the BOK seems to have limited the possible targets for exchange with CBDC to digital assets in a narrow sense." "The utility of CBDC in the future virtual asset market In order to increase the value, it will be necessary to trade with digital currencies such as Bitcoin and Ethereum."
The BOK plans to start the simulation study after signing a contract with a research service provider after undergoing technology evaluation and negotiations within the next month. The simulation will be carried out in two phases and will be completed by June next year.
The first stage of the simulation test creates a distributed ledger-based CBDC simulation environment and verifies the technical feasibility of basic functions. In the second phase, the possibility of applying new technologies such as CBDC expansion functions such as central bank business expansion, offline payment function, digital asset purchase, and personal information protection enhancement technology will be reviewed.
이승환(2021.06.03) 한은, 내재가치 분명한 가상자산은 인정한다
retrieved from http://news.heraldcorp.com/view.php?ud=20210603000290