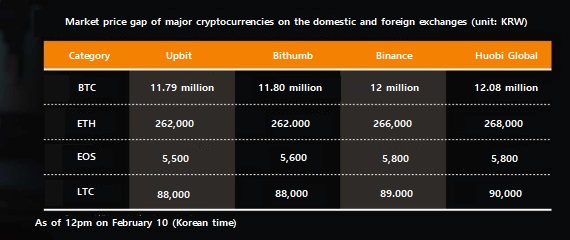 As of 12pm on February 10 (Korean time)
As the bitcoin price surpassed $10,100 in over four months and cryptocurrency price is on the rise, 'Reverse kimchi premium', the price of cryptocurrencies traded on the four major domestic cryptocurrency exchanges is lower than the overseas one, continues. The domestic cryptocurrency market price cannot catch up with the global cryptocurrency market price.
■The reverse kimchi premium has made a gap of market price up to 15%
According to Upbit on the 10th, domestic market price of bitcoin was 11.79 million won. At the same time, bitcoin was traded at 12 million won on the overseas exchange Binance. In comparison, there is a market price gap of about 200,000 won between the two exchanges.
The situation in other domestic cryptocurrency exchanges is similar. In Bithumb and Coinone, bitcoin is traded at 11.80 million won and 11.81 million won, respectively. Bitcoin traded at Korbit is also worth 11.78 million won. In contrast, bitcoin is traded at 12.08 million won and 12.04 million won, respectively, on Chinese cryptocurrency exchange Huobi Global and OKEx.
When the average bitcoin price on overseas cryptocurrency exchanges is 12.04 million won, the average bitcoin price of domestic cryptocurrency exchanges is 11.79 million won. Compared to foreign exchanges, bitcoin price on domestic cryptocurrency exchanges has reverse kimchi premium of 2%.
The market price of altcoins on domestic cryptocurrency exchanges, such as Ethereum, is also set at 2% lower than overseas cryptocurrency exchanges. At noon on the 10th, Ethereum was traded at around 261,000 won on four major cryptocurrency exchanges in Korea. At the same time, Binance and Huobi Global's Ethereum prices are around 266,000 won, which is about 5,000 won higher than Korean exchanges.
The market prices of major domestic cryptocurrency exchanges of EOS and XRP are up to 15% lower than those of foreign exchanges.
■Due to lower trading volume
At the beginning of 2018, the price of cryptocurrencies traded on the domestic cryptocurrency exchanges was 6% higher than the price of the overseas cryptocurrency exchanges. In other words, there was kimchi premium. At that time, bitcoin price soared to 25 million won per piece, and domestic crypto investment demand skyrocketed as the crypto investment craze swept across the country.
On the contrary, reverse kimchi premium from last year was raised due to the low price and low trading volume of bitcoin.
An official who is in charge of development and investment of blockchain start-up said, "The market seems to be picking up early this year, but the sentiment of investors who have suffered from cryptocurrency investment has not yet fully recovered." "In addition, considering the various indicators, it is time for cryptocurrency prices to enter a period of adjustment, and there is not enough trading volume to go through it," he explained.
Another blockchain technology company official said, "Deposit and withdrawal regulations of KRW are relatively strict compared to other countries. Therefore, considering the cost of all cross-border transactions such as fees, it is appropriate to meet the Korean situation." "In the process of deposit and withdrawal on the Korean cryptocurrency exchanges, 2 to 3% of cross-border transaction costs are reduced, resulting in reverse kimchi premium naturally," he added.
Kim So-ra(2020.02.10) 김치 프리미엄은커녕 '逆 프리미엄'…암호화폐 거래량 부족이 원인
retrieved from https://www.fnnews.com/news/202002101649412992