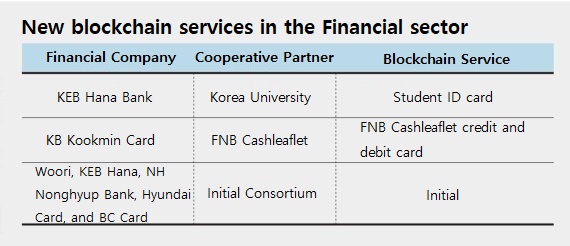 Financial companies such as banks and card companies are releasing new financial services based on blockchain technology. It is expected that blockchain services will be popularized in various industries, starting with the financial sector.
■Blockchain-based financial services continue to launch
According to the related industry on the 12th, the financial sector is collaborating with blockchain startups and research institutions to release new financial services that are easily accessible to the public using blockchain technology.
KEB Hana Bank is planning to issue a student ID card that applies its own blockchain technology, '1Q Ledger'. Previously, in order to issue a student ID card, it was necessary to go through the process of manually verifying the student information between the bank and the university. However, by utilizing blockchain technology, the process of sharing and mutually validating the student information of subjects is possible in real time.
KB Kookmin Card launched a credit and debit card exclusively for blockchain startup FNB Cashleaflet. FNB Cashleaflet is a blockchain-based augmented reality (AR) advertising reward project. FNB Cashleaflet has a strategy to popularize blockchain services through credit and debit cards for the project.
■Financial companies actively participate in the government's blockchain pilot projects
Financial companies are also participating in the government's blockchain pilot projects. The Ministry of Science and ICT and the Korea Internet and Security Agency (KISA) have been conducting a blockchain pilot project for public sector since 2018 with the aim of improving user convenience by removing pain points from the public.
Major financial companies such as Woori Bank, KEB Hana Bank, NH Nonghyup Bank, Hyundai Card, and BC Card took part in the construction of 'Blockchain ID/authentication network', which is one of the private sector-led projects conducted over the past year. This consortium, with a total of 11 companies, plans to launch a mobile electronic credential service initial app as early as possible.
Meanwhile, major banks give positive consideration to the new 2020 private and public blockchain pilot project.
Major commercial banks like Shinhan Bank, KEB Hana Bank and KB Kookmin Bank and NH Nonghyup Bank are reviewing this. KISA plans to start a pilot project in earnest in April or May after receiving applications by beginning of next month.
Financial News Published (2020.02.12) 블록체인 날개 단 금융사, 카드·전자증명 등 서비스 봇물
retrieved from https://www.fnnews.com/news/202002121843326668