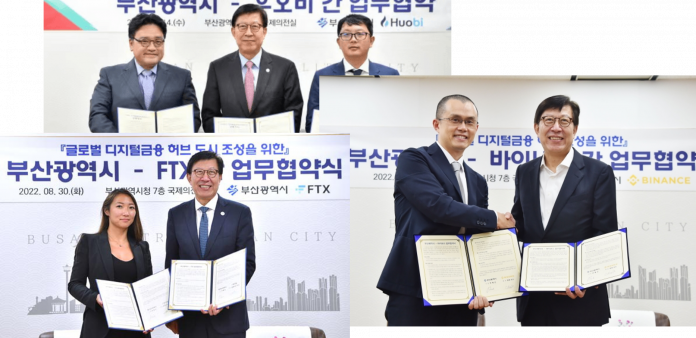 Demonstrating once again its dream of becoming the premier crypto haven of East Asia, the city of Busan just announced a new partnership with crypto exchange Huobi. According to the proposed MOU, the Seychelles-based exchange can operate and develop within a regulation-free locality, and in return provide technical expertise for Busan to bolster its credentials as an international crypto & fintech hub.
What this actually will look like is anyone's guess. The vagueness of the language is a bit reminiscent of the buzzword salad we used to see on ICO homepages. At this juncture, the partnership entails no binding legal obligations from either side. If that wasn't sign enough of a tepid romance, there's also the fact that Busan recently entered similar partnerships with FTX and Binance.
Will there be true cooperation on real projects, or is this merely an exercise in fabricating legitimacy via co-branding? Is Busan just a race car trying to slap as many sponsor stickers on the hood as possible, flirting its way to global powerhouse status? If so, which belle will Busan court next? BitMEX?
Perhaps Busan will one day be the futuristic crypto mecca it hopes to become, with gleaming wind farms powering zero-carbon, edible NFTs. If that's the case, you can be certain that it will be covered as serious news. As of now, however, the big scoop is that various entities have announced their commitment to a friendship trial period. Catch your breath if you can.