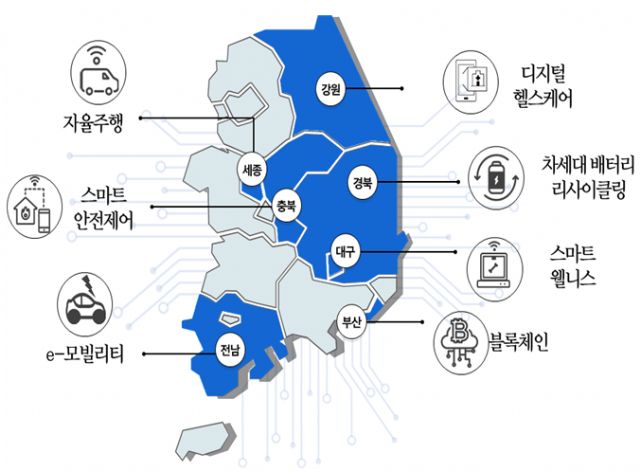 Busan is recently designated as the Blockchain Regulation Free Zone, and it will become a testbed of the 'token economy.'
The token economy is an economic incentive system that works in a blockchain. In the token economy, users activity is rewarded with a token, motivating the user to participate in a service. The reward system is one of the notable features of blockchain services.
​However, cryptocurrency-related businesses will not be allowed, even in the regulation-free zone following the government's stance. Instead, it will issue digital vouchers in the form of a stable coin (value fixed token), and support the blockchain companies in Busan to operate the token economy.
​■ Busan's regulation-free zone will focus on mixing blockchain with existing industry.
On July 23, seven cities and provinces were designated as regulation-free zones in the Regulation Free Zone Committee meeting held under the chairmanship of prime minister Lee Nakyeon at Government Complex, Seoul.
​Places designated as the regulation-free zone are Kangwon province (digital healthcare); Daegu city (smart wellness); Jeonnam province (e-mobility); Chungbuk province (smart safety); Gyeongbuk province (next generation battery recycle); Busan city (blockchain); and Sejong city (autonomous driving).
​During their final presentation in the committee, Busan emphasized that applying blockchain to their local industries like retails, tourism, and safe finance will lead to the 'Blockchain Industrialization.'
​Kim Hyeonsuk, the head of the Converged Industry team of Busan city, explained, "Busan has a solid industrial bedrock as the city of financial hub, tourism, and logistics & maritime. It can draw bigger synergy when blockchain is applied as our industrial infrastructure is already established, and this was the critical point to be selected in the process of designation."
​The businesses scheduled to be promoted in the regulation-free zone are Future logistics system establishment (BPN Solution, Busan Techno Park); Smart tour (tourism) platform establishment (Hyundai Pay, Korea Tour Pass); Public safety video report & data transaction platform establishment (Coinplug, Sarada); and Digital voucher issuance (Busan Bank).
​These chosen businesses will be exempted from a total of 11 regulations. For instance, it will be admitted as 'destroyed' when only deleting distinguishable data saved in an off-chain server for private information data hash value (data fingerprint which is not distinguishable) recorded on a blockchain.
​Busan is planning to put 29.9 billion KRW to the 11 specialized districts (110.65㎢) such as Munhyeon Innovation District, Centum Innovation District, and Dongsam Innovation District until 2021.
​■ The government plans to conduct a Token Economy Experiment with Local Currency
Busan did not include proposals related to cryptocurrency in the regulation-free zone. Instead, Busan made it possible to issue a digital voucher that is essentially a stable coin. It can be exchanged in KRW for 1 : 1 ratio and will be paid as rewards in different blockchain services.
​The companies in the regulation-free zone may exchange the local currency without cryptocurrency exchange markets. Busan believes that it can conduct a safe experiment as the stable coin has no concerns regarding price volatility.
Kim, the head of the Converged Industry team of Busan city, said, "Applying cryptocurrencies to the regulation-free zone now is not in line with the government's policy, and cryptocurrency itself has problems." She added, "Essentially, we will make Busan a blockchain economy bedrock, and make the experiment safer through the digital voucher. We are looking forward to different blockchain services in Busan."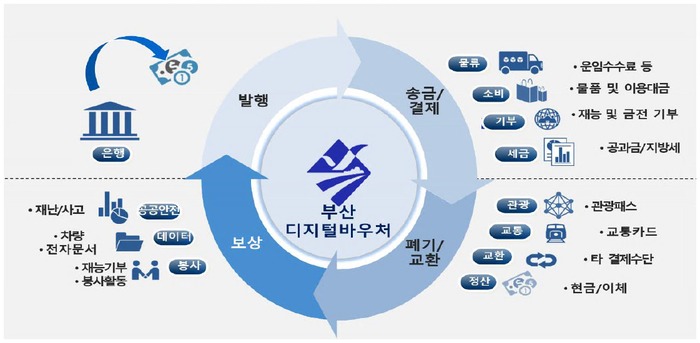 BNK Busan Bank will operate the digital voucher. The voucher will be an electronic prepaid payment tool that can be used in different fields of industry, including finance, tourism, logistics, and data transaction. They will be accepted in the partner retail shops of Busan.
​Unlike other local digital currencies, Busan digital voucher will be practically used as a currency. For example, it can be used as a payment tool in many partner retail shops, as a reward for user-contributed data, and as an exchangeable device for products in the electronic wallet.
​According to Kim, users may purchase the digital voucher, which will be issued by Busan Bank to use in various partner retail shops in the Busan area. Also, the voucher may be obtained as a reward for providing data in order to support other blockchain services of logistics, tourism, and safety. The vouchers in the digital wallet may be exchanged in cash, or with products listed in the wallet.
​Hypothetically, tourists visiting Busan will purchase the Busan Digital Voucher for discounted prices in the tourist spots and restaurants, and exchange the remainders in cash before leaving.
​Ms. Kim said, "We are expecting to build a blockchain ecosystem where the rewards, payments, and settlements are organically connected."
​The participating companies are also hopeful as it could be an experiment for testing the token economy.
​Ryan Uhr, a representative of Coinplug which will be in charge of establishing the public safety video report platform, said, "For now, It is better to verify the potential of the token economy than listing cryptocurrencies in the market to invest. As time goes by, more regulation will be exempted in the regulatory sandbox, hopefully alongside the changes in the government's stance."
​Busan is planning to add more participants to take part in its blockchain experiment.
​Oh Geodon, the governor of Busan said, "World is now at war of blockchain technology. Businesses that can be applied with the thechnology are limitless. We will not expand our scope beyond the regulation-free zone and search for other companies utilizing the blockchain technology. We plan to make Busan a hub of blockchain technology."
Lim Yoogyeong (2019. 07. 25.) 부산 블록체인 규제자유특구 '토큰이코노미' 테스트베드 된다
ZDnet, retrieved from https://www.zdnet.co.kr/view/?no=20190725161658