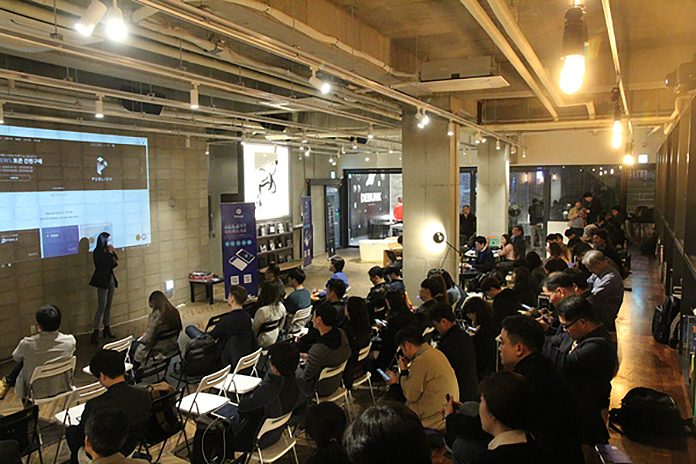 Brypto Network held its first meetup on March 28, 2019. Brypto Network is the new meetup brand of Korea and it launched in collaboration with Block Times TV, a blockchain media and ShaLink, a blockchain consulting firm.
Brypto Network aims to create healthy and reliable meetup culture. Also, under the main topic 'Challenges and Opportunities of Blockchain', they are going to make an atmosphere to discuss the limit and potential of blockchain for each participant.
On this day, a total of 8 speakers including CEO of Hanbitco, a Korean exchange, director of ICON LOOP, CTO of Cyworld, the beginning of Korean-style SNS, made presentations on different subjects such as DApp, Korean wave and game. I will briefly look at some of notable topics.
[Exchange's Role for Mass Adoption of DApp – Kim Sung-ah / CEO of Hanbitco]
Kim Sung-ah, CEO of Hanbitco, pointed out that DApp will be the driving force of the next Bitcoin bull market and presented the role of the exchange for popularizing DApp. "There will be several successful DApps among popularized DApps, competitive DApps that compete with apps from Apple store, DApps are easy to use even for users who are not interested in blockchain and those DApps will lead next bull market of Bitcoin," said Kim Sung-ah, CEO of Hanbitco.
At the same time, she said, "I had a lot of worries about what exchange could do for the commercialization and popularization of DApp as a CEO of the exchange. So, I met diverse DApp project teams and targeted focus group of general users who had no knowledge of blockchain. As a result, majority of users in the focus group responded that they will not use the high quality DApp because it is difficult to utilize the user interface of the exchange website such as transaction page and wallet page."
Thus, she thought that the exchange should perform a role as an accelerator for activation of DApps and she said that her company, Hanbitco, provides DApps with easy and fast access to hard wallets and cold wallets and excellent exchange matching service for activation of DApps. Lastly, she said that she believes the two things mentioned above are the roles of exchange for the activation of DApps and concluded the presentation with her hope that it will be the opportunity to accelerate the DApp's ecosystem.
It was very impressive that Hanbitco, which is renowned for its honest and regulatory compliance operation without scam, is also trying to advance the blockchain industry.
[Blockchain-based Rewarding SNS Cyworld – Kim Sang-bae / CTO of Cyworld]
The third speaker, Cyworld's CTO, Kim Sang-bae, presented Cyworld 3.0, which is preparing to make a leap forward by adopting blockchain-based Clink coin through reverse ICO. He analyzed the causes of business depression in Cyworld, the number one SNS in Korea, which had 32 million active users, as follows:
Inadequate response for the advent of smartphone generation-Focused on PC native application
Closed platform for users and business partners (Walled garden)-Centralized structure for Cyworld
Being given too much emphasis on profitable business, selling cyber money (Dotori)-It caused breakaway of users from Cyworld
"Cyworld 3.0 plans reverse ICO for rebirth, providing rewards for users who participated in the platform, and, in particular, providing air drops when inactive users switch to active users," he said. User reward is given within the Clink platform and the Clink ecosystem is constructed as follows:
Clink: A liquid currency; exchangeable on exchanges and transferable to others
Coconut: A stable coin; A Clink-derived asset, rewards from social mining, exchange method in the item shop
Vesting: A system to control Clink circulation
Users will be rewarded based on the SIPR (Social Influence Power Reward) and the CSR (Contents Sharing Reward). The SIPR is relationship formation reward that continuously drives traffic by securing the user base with active relationship. And the CSR is reward for posting contents and inducing traffic.
"As Clink network utilization increase, Clink's value will increase steeply. Also, the increase in Cyworld traffic and the increase in Clink's value are proportional as shown in the graph," he said. In the end of the presentation, he anticipated the following virtuous cycle as expected effect and prospect of Clink platform.
It was a meaningful time to listen to hands-on experience through the participation of current professionals in each field of blockchain industry. The speakers' presentations and materials were diverse and great but the organization of meetup was not smooth. There were several occasions where the speaker's presentation was interrupted due to poor equipment connection and the host participated in this meetup without serious attitude. In addition, when Chinese speaker announced, consecutive interpreter could not interpret because the interpreter missed the speaker's words. Although it was the organizer who showed the attentiveness of preparing sandwiches for attendees who participated in the meet-up until late, inexperienced organization was not quite satisfied.