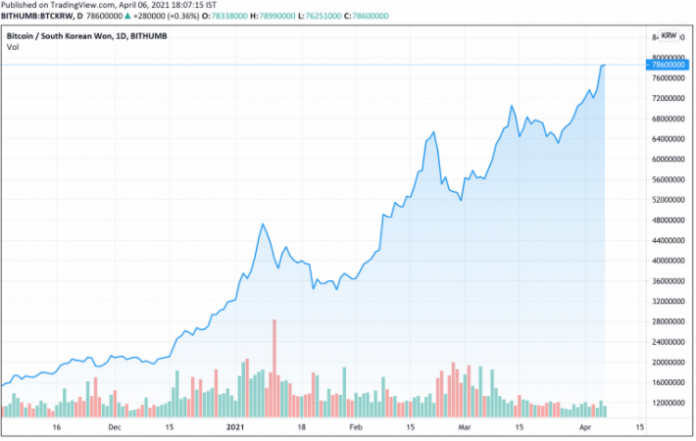 Bitcoin, Ethereum, and Bitcoin Cash See Premiums in South Korea
Bitcoin prices on domestic South Korean crypto trading platforms are much higher than they are across a majority of exchanges worldwide. For instance, on Tuesday morning (EST) the price per bitcoin (BTC) has been coasting along at $58,500 per unit. However, in South Korea, BTC prices have a much larger premium than the rest of the world. At the time of publication, the price of BTC on Bithumb is 77,804,000 KRW or $69,423 per unit. That's a premium of more than 18% higher than the global average.
Similarly, the South Korean exchange Korbit is showing the same price range which is 18% higher than the global average. A single BTC is exchanging hands on Korbit for $69,371, a few dollars less than the price on Bithumb. The gap in prices between the rest of the world and South Korea is called the 'Kimchi premium' and it was noticeable during the 2017 bull run as well. BTC is not the only crypto asset with a Kimchi premium as a myriad of alternative digital currencies are seeing premiums as well.
No one is exactly sure why the price is 18% higher in South Korea but some people suspect it's a lack of bitcoin liquidity. Right alongside Japan and a few other countries in the region, South Korea has been willing to adopt FATF requirements early, which has hurt liquidity and pushed up demand and premiums.
Others have said that Korean retail is coming into the cryptocurrency space again like it did back in 2017. On social media, the Kimchi premium has become a topical discussion.
"With the growing Kimchi premium, I did some digging on the BTC performance following previous spikes in the Korean BTC pair," explained Arcane Research analyst Vetle Lunde. "While it's impossible to say whether the Kimchi premium has peaked or if it will continue growing onwards, it makes me worried," he added.
Jamie Redman(2021.04.06) South Korea's Kimchi Premium Returns: BTC and ETH Prices Jump 18% Higher Than the Global Average
retrieved from https://news.bitcoin.com/south-koreas-kimchi-premium-returns-btc-and-eth-prices-jump-18-higher-than-the-global-average/