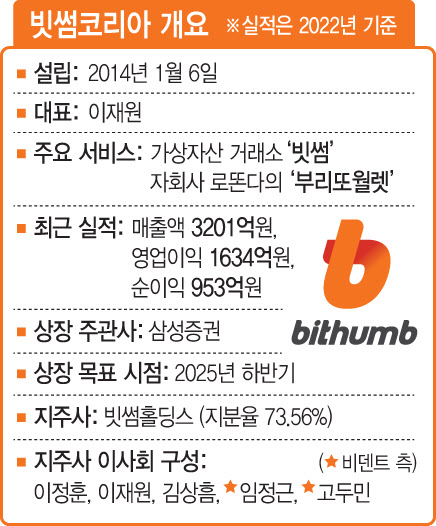 Bithumb Targets Kosdaq Listing; Chooses Samsung Securities as Its Fund Manager
According to Edaily, a South Korean news outlet, Bithumb could pursue an initial public offering (IPO) by 2025. Yoo Kyung Lim, a journalist, noted that the exchange's potential IPO strategy is seen as an ambitious effort to surpass Upbit's market supremacy.
Upbit currently holds an 85% share of South Korea's cryptocurrency trading market. The briefing highlights Lee Jung-hoon's comeback as the major stakeholder on Bithumb's board, with a focus on fortifying the firm's governance.
Sources close to the situation reveal that Bithumb has appointed Samsung Securities as its fund manager, with IPO preparations already underway. The exchange aims for a Kosdaq listing, yet Bithumb chose not to comment to Edaily on these developments.
According to its second-quarter financials, Bithumb possesses assets worth 400 billion won, equivalent to $303.56 million. Furthermore, it's been reported that Sangjun Lee, Bithumb's former board representative director, was ousted.
Bithumb has recorded a spot trading volume of $658.58 million over the past 24 hours on November 12, 2023, whereas Upbit has notched a volume sixfold higher at $3.98 billion. As part of its strategy to go public, Bithumb is undergoing a business overhaul.
The report concludes that the crypto firm's IPO will set a precedent in the nation, with Lee Jung-hoon poised to escalate his influence to ensure a successful IPO and spearhead the company's internal streamlining. On Sunday, spot BTC prices at Upbit and Bithumb exhibited a 'kimchi premium,' with South Korea's BTC pricing exceeding global rates by over $350.
Jamie Redman
(2023.11.16) "South Korean Crypto Exchange Bithumb Eyes IPO in Move to Challenge Upbit's Market Dominance"
retrieved from https://news.bitcoin.com/south-korean-crypto-exchange-bithumb-eyes-ipo-in-move-to-challenge-upbits-market-dominance/