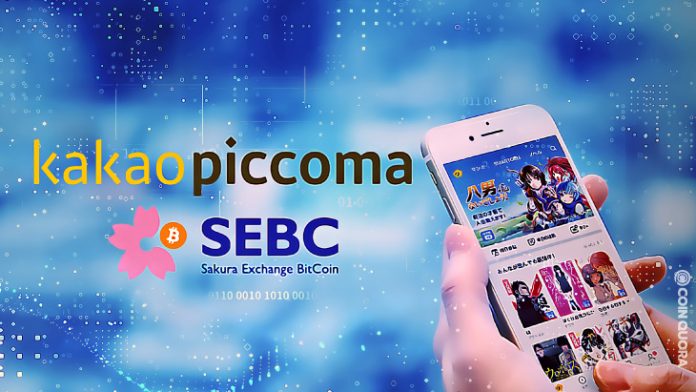 Kakao Piccoma, the Japanese webtoon subsidiary of South Korea's web service giant Kakao, has acquired a cryptocurrency exchange company in a bid to accelerate the adoption of cryptocurrency and non-fungible token systems to webtoon services.
Webtoon, also known as web cartoons, is popular content enjoyed by teenagers and young consumers. Japan has the world's largest comic book and animation market, which would stand at $36.26 billion by 2025, according to Grand View Research, an international research firm. Piccoma, an online comic book store app operated by Kakao Piccoma, posted about 130 billion won ($106.9 million) in sales in the third quarter of 2021, up 247 percent from a year ago.
Kakao Piccoma said in a statement on April 4 that the company secured a majority stake in Japanese cryptocurrency exchange Sakura Exchange BitCoin. Kakao has Ground X, a blockchain service subsidiary that operates blockchain and cryptocurrency services for enterprises, but this is the first time the web service giant has acquired a cryptocurrency-based business.
Webtoon services normally provide free online comics but if users wish to read the latest episodes, they have to pay digital coins of about 300 won ($0.25) per view. A cryptocurrency system can be applied to the service's digital coin ecosystem and an NFT system can be used for the authentication of ownership for special webtoon episodes.
"Through this investment, we will establish a cryptocurrency and blockchain-based economic system to pioneer the web 3.0 sector," Kakao Piccoma said. Web 3.0 is the upcoming third generation of the internet where information is processed using blockchain, machine learning, big data and other information technologies.
Park Sae-jin(2022.04.05) Kakao's Japanese webtoon subsidiary acquires cryptocurrency exchange
retrieved from https://www.ajudaily.com/view/20220405094827108