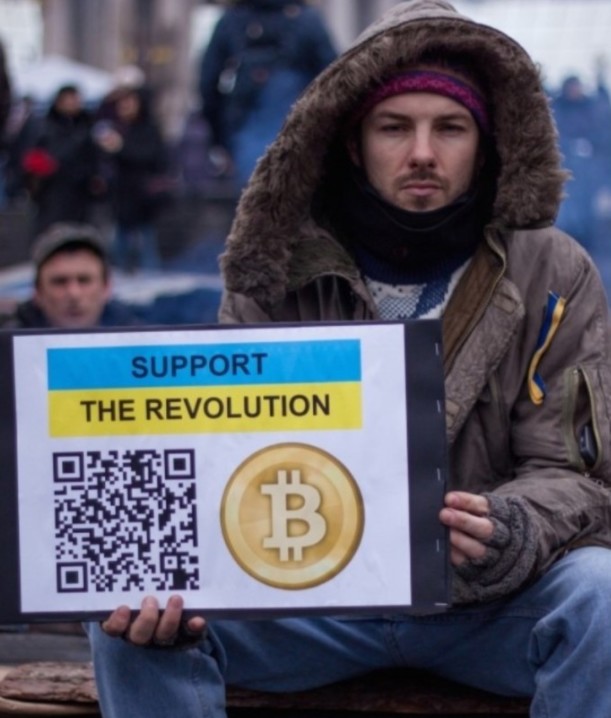 Everyday there's a new story of a famous person peddling NFTs to heap fresh, low-cost layers to their stockpiles of wealth. Non-fungible tokens, those airy records of digital ownership, show us the glamorous—perhaps even frivolous—side of digital assets. They inspire content creators and investors, all consenting adults, to try their hand at the instant money game. This is the fun part of pixelated money.
What is occurring in Ukraine, meanwhile, provides other portraits of digital asset use cases. There's little frivolity where war is present, and here digital assets serve vastly different purposes.
Millions of beleaguered Ukrainian refugees who fled their homes did so without the luxury of hard fiat in hand. Some couldn't withdraw funds due to governmental restrictions on bank runs. Others didn't have time to try due to approaching artillery explosions. Now, as they cross into Poland and other hospitable nations, the luckier ones are able to rely on cryptocurrency donations and remittances to ease their resettling experience. The transactions are fast and direct, and more importantly, the currency is globally considered to hold value.
The Ukrainian government has also been the beneficiary of cryptocurrency. In mid-March, legislation was passed to facilitate bank-and-exchange integration, as well as generally recognize cryptocurrency as its own, legitimate asset class. Donations in the form of well-established cryptocurrencies and stablecoins have already generated at least USD $60M for the government, which President Zelenskyy is allocating to fund the national defense through weapons and supplies.
So as basketball star Kevin Durant promotes NBA's Top Shot NFTs at the same time that a war-torn nation depends on digital assets for existential survival, is there a larger story at play? If so, maybe it's the nascent ubiquity of DLT-backed assets. The early prophets of the crypto revolution predicted that this technology would change everything. Never is that clearer than when it touches opposite ends of the human experience simultaneously.