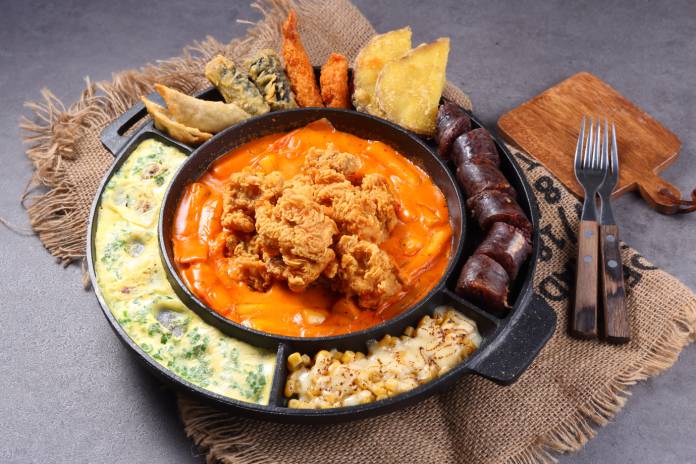 Have you tried Rosé Tteokbokki eaten by BTS and Black Pink?
Now, I think I'm going to have to hand over the leadership of K-Food to Tteokbokki. Top idols and famous celebrities are competing for Rosé Tteokbokki certification, and now they are starting to make their own recipes.
Typing #Rosé Tteokbokki on Instagram resulted in over 110,000 posts, and Tteokbokki has become a daily routine for the MZ generation. We tried to find out why they are passionate about Tteokbokki culture by keyword.
#legal dispute

'Rosé sauce' as we know it is mainly used for making Western-style dishes such as pasta and risotto. The name "Rose," meaning rose in Italian, was given to the fact that tomato sauce is mixed with cream to give it a pink color. However, the popular 'Rosé Tteokbokki' uses red pepper paste instead of the tomato sauce used in Italian food. The taste of rosé, which is well combined with gochujang and soft cream, became a success factor in the slightly boring tteokbokki market, and created a trend called 'K-Rosé'. However, this popularity has caused problems with recipe duplication and is still awaiting a court ruling.
#idol mukbang #my own recipe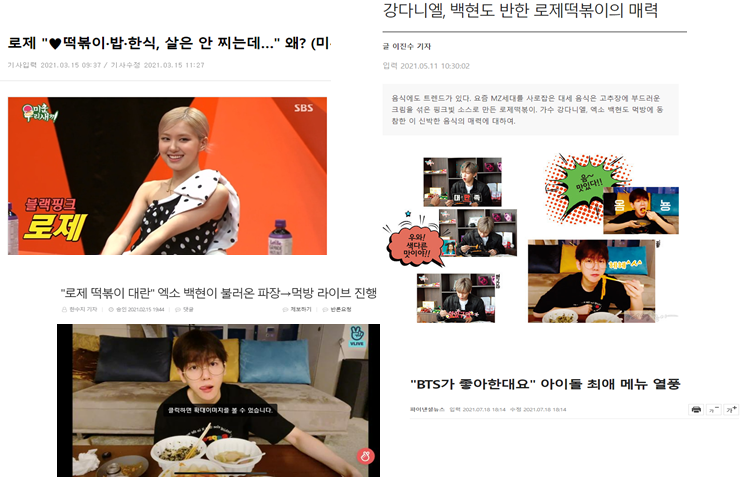 In fact, the birth of K-Rosé dates back several years. In 2016, when the addictive spicy Buldak Stir-fried Noodles became popular, a recipe that neutralized the spicy taste by adding milk or cream to people who couldn't eat spicy food became a hot topic on social media such as Twitter and YouTube, and this became the basis Recently, through broadcasting, idols are eating Rosé Tteokbokki, and their popularity is getting steeper.
Black Pink's Rosé also mentioned Rosé Tteokbokki in the MBC entertainment program aired on February 13th, saying, "It tastes different from the existing tteokbokki because it tastes like rose sauce. It's delicious." He showed off a great eating show. EXO's Baekhyun also held a Rosé Tteokbokki mukbang on Naver Live on February 15th, saying, "I can't eat really spicy, but Rosé Tteokbokki is a little spicy. It's delicious," he exclaimed. The reaction of consumers who have actually tried Rosé Tteokbokki is also positive. Not only does it satisfy those who have stayed away from tteokbokki because of its spicy taste, but there are also those who are new to tteokbokki fans who fall in love with the taste of rose sauce.
* Mukbang is compound word for "eating" and "broadcast" in Korea.
#instagram #MZ
Rosé Tteokbokki is so popular that an Instagram search results in a whopping 110,000 posts. For the MZ generation, it is difficult for friends who have not tried Rosé Tteokbokki to join the group as a must-have item. And the fandom that tours the country in search of the Rosé Tteokbokki that our idol ate can also be seen on Instagram.
#franchise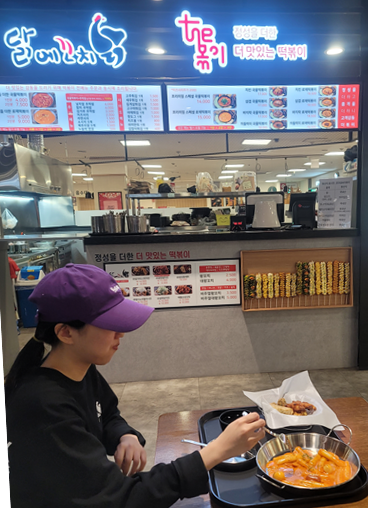 Sales are also great. DakKkoDak, which recently introduced Rosé Tteokbokki, has seen a surge in sales for four weeks after the release of Rosé Tteokbokki in January of this year, and some stores sold out of the menu early due to exhaustion of ingredients. The store manager says:
"The taste and atmosphere are refined and it is fun to eat, so the number of customers visiting the store is increasing every day." And, "More than anything else, our products have a uniqueness that sets them apart from others when they take photos." "These days, the MZ generation seems to feel that taste is basic and this uniqueness is attractive."
Customers who come to the store say: "I'm different from you guys in what I eat!"
Now Rosé Tteokbokki has become the #1 menu in the world for K-food.