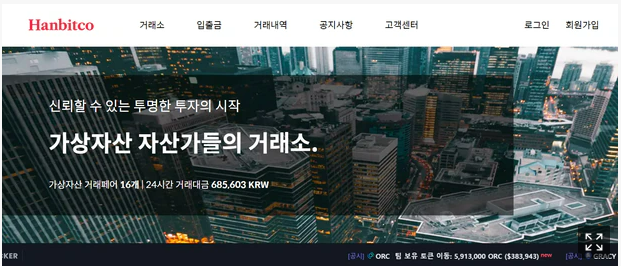 It has been confirmed that Hanbitco, a domestic coin market exchange, signed a real-name account contract with Kwangju Bank and submitted a report on a change in the type of virtual asset business to the financial authorities. If the financial authorities permit the change report, Hanbitco will be listed as the 6th KRW market exchange.
According to the virtual asset industry on the 21st, Hanbitco concluded a real-name account contract with Kwangju Bank and submitted a business type change report to the Financial Services Commission's Financial Intelligence Unit (FIU).
If the FIU approves the business change, Hanbitco will become the 6th KRW market exchange following Upbit, Bithumb, Coinone, Korbit, and Gopax. Based on the fact that 99% of all virtual asset transactions are conducted within the KRW market exchange, Hanbitco is also expected to benefit from this.
However, if the FIU determines that the anti-money laundering (AML) requirements are insufficient, there is a possibility that the permission will be rejected. This year, as the virtual asset industry is suffering from theft of funds due to hacking and allegations of fraudulent listing by some executives and employees, the Financial Services Commission has no choice but to be more careful in permitting the KRW market.