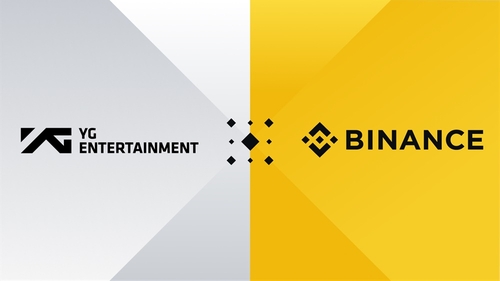 YG Entertainment, a leading K-pop management agency, said Tuesday it will jump into the burgeoning non-fungible tokens (NFTs) market in partnership with global blockchain and cryptocurrency infrastructure provider Binance.
YG said it has signed a memorandum of understanding (MOU) to build a strategic partnership with Binance, under which both sides will cooperate on a range of blockchain projects, including collaborations in the NFTs space.
NFTs are digital tokens of physical or digital assets, mostly of music or art, that guarantee ownership through blockchain technology.
Binance will provide the NFTs platform and technology infrastructure while YG will supply content, the South Korean company said, adding the cooperation will create positive synergies between the two sides.
The two will also push to develop Binance Smart Chain-based games, work on building the metaverse and seek other digital assets, YG said.
The agency that manages K-pop stars such as BLACKPINK, BIGBANG, WINNER, iKON, AKMU and Treasure said the deal has opened the way for it to develop digital assets using its artists' intellectual property (IP) rights in a wide range of business fields.
The two companies also plan to steadily build an innovative and eco-friendly NFTs ecosystem.
"Collaboration with Binance has provided an opportunity for YG to secure royalties and business opportunities for rare and valuable content. We also hope that it could further strengthen the bond between fans and artists," YG CEO Hwang Bo-kyung said in a press release.
sshim(2022.02.08)YG announces strategic partnership with Binance to launch NFTs business
retrieved from https://en.yna.co.kr/view/AEN20220208006600315