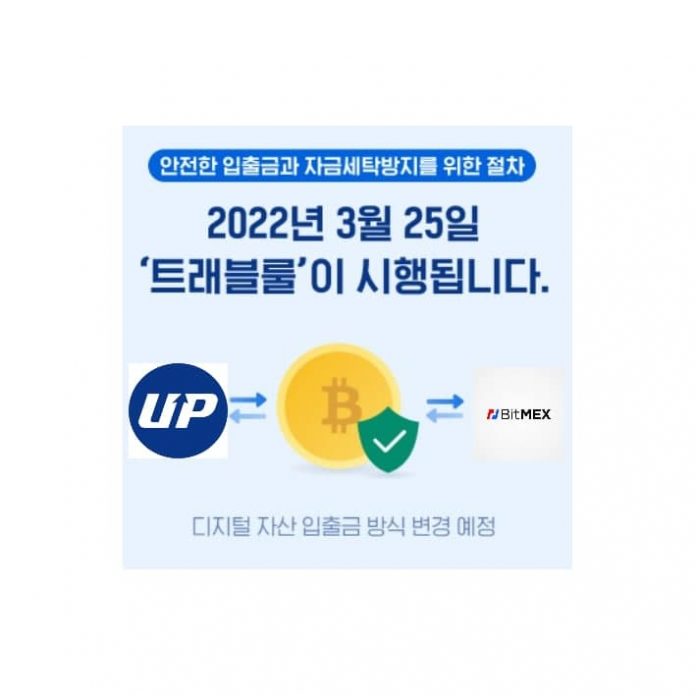 In Korea, travel rules will be enforced from March 25th. Each domestic exchange plans to expand the exchanges that allow withdrawals in accordance with the travel rule compliance obligation. The list below is a list of overseas whitelisted exchanges of the three major domestic exchanges.
Upbit
Upbit, which has the largest market share in Korea, announced on February 24 that it will change its deposit and withdrawal method according to the implementation of the Travel Rule. However, specific wallet registration methods such as Bithumb and Coinone will be announced at a later date.
In the case of Upbit, they plan to support deposits and withdrawals for domestic exchanges that have introduced 'VerifyVASP', a travel rule solution of Lambda 256 in the early stages of the travel rule implementation.
– Overseas exchanges registered on the Upbit White List Exchange so far are ▲BitMEX ▲FTX ▲MEXC
Bithumb
Bithumb and Coinone adopt the strictest 'whitelist' method among domestic exchanges.
In the case of Bithumb, withdrawals are possible only to the wallet address registered in advance. Personal wallets cannot be registered, and withdrawals from overseas exchanges are prohibited except for exchanges that have been reviewed.
– 13 exchanges including ▲Coinbase ▲Kraken ▲Coincheck ▲bitFlyer ▲Bybit ▲Gemini ▲Coinlist Pro ▲Phemex ▲Bitbank ▲Line bitmax ▲Bitfront ▲FTX ▲Binance
Coinone
Coinone is also implementing a 'coin wallet real-name system' that allows withdrawals only to external wallets that can prove ownership. However, Coinone did not designate an overseas exchange that allows withdrawals like Bithumb.
Both Bithumb and Coinone cannot transfer virtual assets to personal wallets. In the case of Coinone, registration of wallets with identification information such as clips or Kaikas was allowed, but it has been suspended since February 14.
– Only some overseas exchanges such as ▲Binance ▲FTX ▲MEXC ▲Huobi allow withdrawals