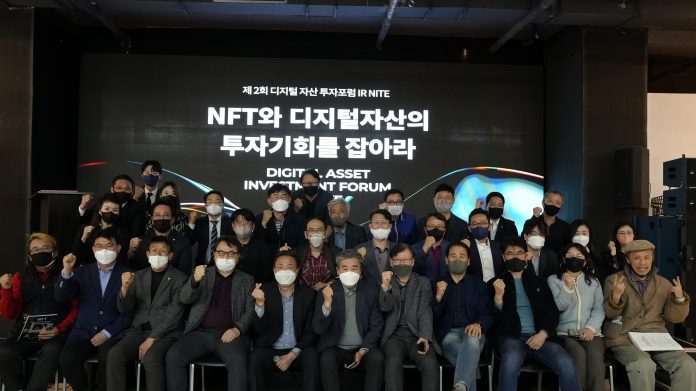 The first IR presentation of the 2nd Digital Asset Investment Forum and Ggaebi Investment Club was held with great success at JBK Tower on the 18th.
The Ggaebi Investment Club, which aims to be a decentralized securities company DAO, selects two projects by votes of members after the announcement on the first day, and on the second day, an expert group of the investment club called Theggaebi conducts in-depth analysis of the two projects online for 90 minutes each. Then, they vote and choose the final one, and when the due diligence passes, all members voluntarily invest.
1st place is 'Shoot2E' with the slogan of "Make money by taking pictures", and it is a platform that publishes photos of smartphone users as NFTs and links them with the media. 2nd place is 'FAUNUS', a blockchain platform based on non-human genetic data. 3rd place went to 'Darwin KS', which announced a digital ATM, and 4th place went to decentralized model 'Fina Singer'.
Before the IR session on the 18th, DATAM got attention by exhibiting a carbon-saving electric motorcycle along with a blockchain model that compensates for individual carbon reduction. KORating introduced certification evaluation and Korea's first NFT evaluation model, and Incutek used artificial intelligence to draw a picture within 1 minute by inputting a simple keyword and introduced a platform that issues NFT. The United Nations Climate Chain Coalition also introduced a carbon reduction-related blockchain.
The event co-host Ggaebi Investment Club Chairman Cho Seok-joon said, "Through the two-day event, the blockchain and the second Internet era have already come to us." "The Ggaebi Investment Club aims to become a decentralized securities company that surpasses Goldman Sachs with collective intelligence. In the first IR process, the expertise of many members helped a lot in identifying good projects. The group's power surpasses that of a few analysts. The ggaebi investment club plans to reach 100,000 members by the end of this year and convert it into a DAO."