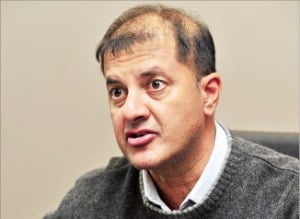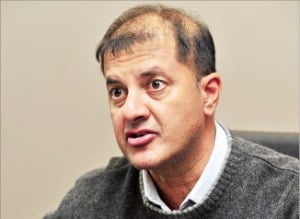 "Korea is a fascinating overseas remittance market. Korea has advanced technology compared to other Asian countries and Koreans are also familiar with mobile, so it is easy to increase the number of users."
Anil Kapur (picture), head of Asia Pacific and South Asia of MoneyGram, we met recently at the Sheraton Palace Gangnam Hotel, Banpodong, Seoul, evaluated the Korean market as above. MoneyGram is the leading overseas remittance company in the United States. It operates in 200 countries and its overseas remittance scale is the second largest in the world. Prior to joining MoneyGram in September last year, Anil Kapur worked for US money transfer provider Western Union and German electronic payment company Wirecard.
He explained that the secret to the expansion of MoneyGram is 'a system that allows remittance in less than 10 minutes'. "A few years ago, we had to wait three days to a week to complete the overseas remittance. MoneyGram has reduced remittance time to 10 minutes by preemptively introducing the express remittance service, which opens 24 hours a day for 365 days a year."
MoneyGram has Shinhan Bank and Woori Bank as partner companies in Korea. In August last year, it made an agreement with Sentbe, Korea's leading overseas remittance startup. As a result, Sentbe has been able to increase the number of transferable countries to 24 and raise the cumulative amount of remittance to 445 billion won (as of the end of last year).
MoneyGram will accelerate its entry into the Korea market with the agreement with Sentbe. Anil Kapur said, "Sentbe provides excellent mobile services and customer marketing." "We are convinced that the Korean market is an important partner for MoneyGram, and we are considering that we would have to make agreements with more banks and fintech companies in the future," he added.
That's why he recently visited Korea. He also said, "We are paying attention to Korean fintech industry because it is growing significantly." "It is hard to talk about it in detail, but we are discussing cooperation with some Korean companies," he added.
MoneyGram plans to focus on diversifying remittance services using blockchain technology and expanding the Asian market. Anil Kapur said, "We have worked with Ripple, a global blockchain remittance company, to build a faster settlement system." "We will expand our business around Asia, including India, China, Indonesia, the Philippines and Australia," he added.
Yoon hee-eun(2020.02.26) "괄목할 韓핀테크 성장…협력사업 매력 충분"
retrieved from https://www.hankyung.com/it/article/2020022675671