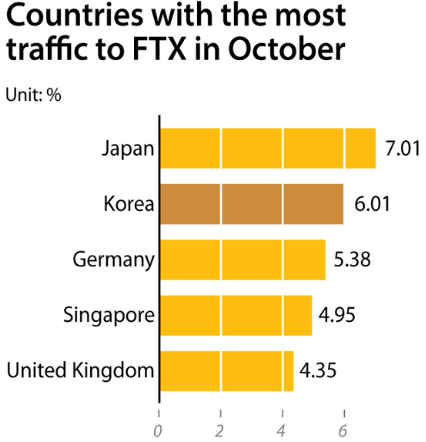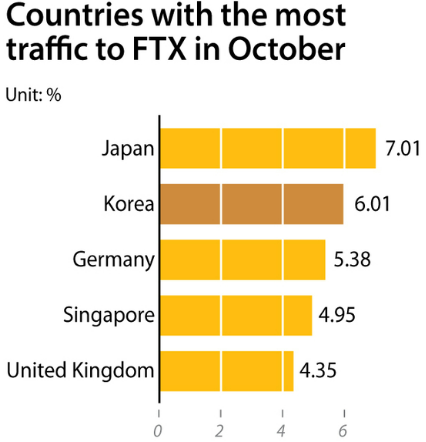 The bankruptcy of FTX has hit Korea as Korean investors suffer losses and other cryptocurrencies fall in sympathy with FTX's FTT coin.
It is just the latest in a string of disappointments for investors in digital assets, following the Terra-Luna crash, the fall on Bitcoin and the decline in the value of local tokens.
Local press reports put the number of Korean investors in FTTs at about 6,000 and their holdings at 110,000 units. Korean users generated 6 percent of FTX's internet traffic, second only to Japan, according Similarweb. Korea was followed by Germany, Singapore and Britain.
"It would have been better if I had lost the money from trading, but it feels strange to have lost money from bank run. My feelings changed from denial to anger, depression, compromise and embrace," said a YouTuber posting in Korean with the handle Lalo.
FTX was used by crypto investors that traded crypto derivatives.
Com2uS shares lost more than 15 percent of their value Monday as people feared the potential impact of FTX's fall on the game publisher. A foundation related to Com2uS issued the XPLA coin on FTX in March. XPLA has lost more than half its value from its peak last month and was trading at $0.30 on Tuesday.
Com2uS Holdings share fell almost 14 percent on the same day.
FTX was one of the three exchanges where the XPLA token was listed.
Com2uS Holdings said Tuesday that it hasn't suffered any financial loss from the XPLA coin. It said only 4.26 percent XPLA coins have been distributed. The XPLA coins traded on FTX and now frozen are 1.6 percent of the total supply.
"The role of a crypto exchange is very important in that it functions like a bank," said Park Sung-jun, CEO of Andus, which operates the AndUsChain blockchain platform.
"Whether the exchange is operating soundly and transparently needs to be supervised. But putting crypto within a legal frame is taking a long time in Korea because it still isn't officially acknowledged as an asset."
Park added that crypto exchanges should hold all customer assets and not trade them for their own account.
Current law does not require crypto exchanges to maintain a certain level of customer deposits, according to Park Poojun, an attorney at the Kisung law firm.
Meanwhile, the local prosecution summoned Terraform Labs co-founder Daniel Shin, according to local media reports Monday. Shin is being accused of unfairly profiting to the tune of 140 billion won ($106 million) from trading Luna.
Jin Min Ji(2022.11.15) "FTX failure hits an already crypto-weary Korea
retrieved from https://koreajoongangdaily.joins.com/2022/11/15/business/finance/korea-ftx-crypto/20221115182845273.html/