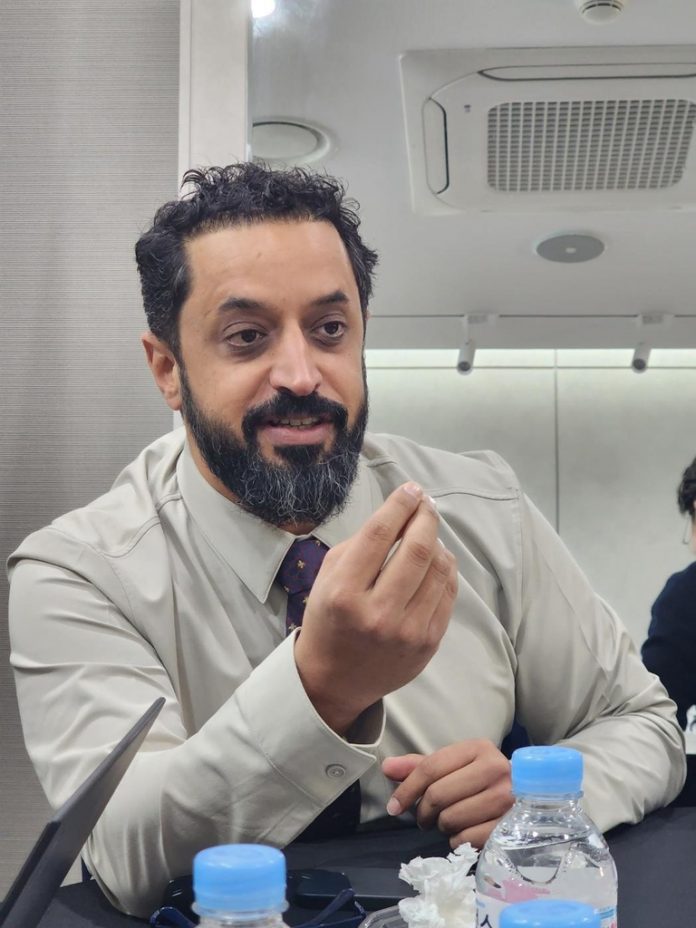 Dubai Multi Commodities Centre (DMCC), the largest free trade zone of the United Arab Emirates, is seeking a greater presence of South Korea companies as it expands into blockchain, gaming, health, cultural content and other sectors with future growth potential, its chairman said Thursday.
Currently, about 80 South Korean firms are operating in DMCC, located in the Jumeirah Lake Towers district of Dubai, which hosts more than 20,000 members, including such world-leading companies as Saudi Aramco, Bulgari and Duracell.
DMCC is expecting the number of South Korean tenants to grow significantly, as it is actively seeking to attract promising companies from the global tech powerhouse.
"Dubai is a crossroad to the world. We are not here to be Warren Buffett. We are here to attract the Warren Buffetts to do business and expand (with DMCC)," Ahmed Bin Sulayem, DMCC executive chairman and chief executive, told Yonhap at a DMCC trade forum held in Seoul.
While DMCC, launched in 2002, is best known as the world's major exchange of commodities, such as diamonds, gold, coffee and tea, it is seeking to expand its coverage in new sectors as well, including technology — particularly blockchain, gaming and health tech — cultural, hydro and other "timeless" products, Sulayem said.
He is visiting South Korea for the third time to explore up-and-coming companies and the latest trends in Asia's fourth-largest economy. He first visited the country in 2016 and again in 2022 to attend Busan Blockchain Week in the southern port city of Busan.
DMCC plans to set up an office in Seoul within the first half of this year to coordinate smoothly with its prospective South Korean tenants.
Sulayem noted that amid growing global uncertainties this year, one should be able to distinguish between opportunities and risks.
"This moment we speak, there are companies setting up in DMCC right now, no matter whether there is a global financial crisis or not. Dubai is a strong center. When the diamond market crashes, some would buy more diamonds because the prices would go up," he said.
"Also, there are timeless services. No matter what happens, even in the worst economic times, people will always drink tea."
South Korea has a plethora of "timeless" businesses to offer, including health tech and entertainment, Sulayem said.
"I want to have deals with stem cell companies from here; cosmetic companies; health-oriented diet and healthy lifestyle (companies)," he said.
"The health-tech business is also important. The health industry here is ahead of the United States, I think, and will continue to grow," he added.
The DMCC chairman also highlighted the global potential of South Korea's cultural products, such as e-sports, movies, TV shows and even the Korean language.
"I was told to watch 'Train to Busan,'" he smiled, calling himself a big fan of zombie thrillers.
Sulayem mentioned relocating to Dubai might be a new adventure for some South Korean companies, but it would be worth it, just like his unplanned visit to South Korea that proved to be beneficial to his business.
"In 2016, I flew to Hong Kong, Tokyo, and then came here. My team said 'you don't need to go to South Korea,' but I was curious. I visited (Korea) for a few days. Maybe the Busan Blockchain Week wouldn't have happened if didn't go to South Korea back then. I'd have thought it was too far."
In 2021, DMCC launched its Crypto Center and Game Center, which garnered significant attention from the crypto community, particularly with the sign-in of the holdings company of Binance, the world's leading cryptocurrency exchange.
An increasing number of South Korean crypto startups are seeking opportunities in Dubai, according to the Federation of Korean Industries chairman, Kim Byong-joon, who also attended the interview.
DMCC's Crypto Center has various licenses related to blockchain, such as blockchain as a service, metaverse, crypto and proprietary trading, as well as crypto mining and NFT businesses.
In 2022, DMCC attracted over 500 crypto startups, undeterred by the pandemic.
Chung Joo-wo(2023.03.16) "Dubai free trade zone seeks to attract S. Korea's promising tech, health, cultural companies"
retrieved from https://en.yna.co.kr/view/AEN20230316009400320/