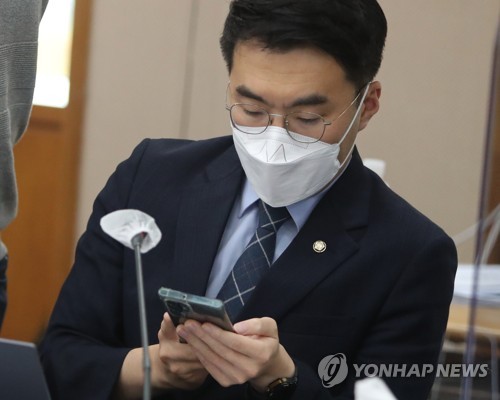 Prosecutors raided two of South Korea's local cryptocurrency exchanges Monday as part of an investigation into the snowballing suspicions surrounding independent lawmaker Kim Nam-kuk's digital assets, officials said.
A team of investigators from the Seoul Southern District Prosecutors Office seized transaction records and other materials from the exchanges Upbit, Bithumb and Kakao Klip, a blockchain platform under the local tech giant Kakao Corp., they said.
The move came as Rep. Kim has come under fire following revelations he owned around 800,000 Wemix coins in 2021, worth around 6 billion won (US$4.5 million), a significant amount inconsistent with his frugal image. Suspicions have arisen over where the money came from and whether he used insider information.
The first-term lawmaker, who quit the main opposition Democratic Party on Sunday, has also faced allegations he traded cryptocurrency coins while he was attending at least two meetings of the judiciary committee of the National Assembly, which took place in May and November of last year.
Kim operates his digital wallets on Upbit, Bithumb and Kakao Klip and allegedly transferred some 800,000 Wemix coins to Upbit from Bithumb early last year.
The Korea Financial Intelligence Unit had flagged the transfer as a suspicious transaction and reported it to the prosecution.
Prosecutors had sought a search and seizure warrant for Kim's digital wallets twice late last year, but a court dismissed the requests.
As the scandal snowballed in recent weeks, the prosecution expanded its investigation into the scandal and secured a warrant to search the crypto exchanges.
Kim has been claiming innocence, saying he will fight against numerous news reports that he claims were based on false information.
Meanwhile, Wemade, the operator of the cryptocurrency Wemix, denied allegations that it has been involved with Kim's crypto dealings and vowed to take legal action against fake news.
"News reports that Wemade has illegally given Wemix to the lawmaker or given him inside information are not true," Chang Hyun-guk, CEO of Wemade, said in a statement. "We will strictly deal with the production and dissemination of fake news, and take all civil and criminal measures against them."
brk@yna.co.kr(2023.05.17) "Crypto exchanges Upbit, Bithumb raided over lawmaker's cryptocurrency scandal"
retrieved from https://m-en.yna.co.kr/view/AEN20230515008051320/