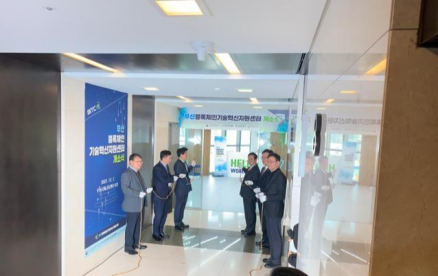 A blockchain technology support center will open in the southern port city of Busan to efficiently assist blockchain companies. The center will provide various services including consulting, legal and marketing-related advice, and educational programs. Companies can demonstrate various blockchain-based platforms inside the center size of about two football fields.
Busan has a special demonstration zone to test blockchain-based logistics and tourism-related services. The city currently operates a blockchain-based integrated certification service app called "B Pass." It allows users to digitally carry ID cards and national certificates in a smartphone app. Users can take subway trains and city buses without using an additional transport card or other forms of payment.
Busan said 16 selected companies will enter the facility in December 2022. The building with a conference room, lounge and other special spaces will be also used to build a cooperative workforce and support all blockchain companies in the city. "Through the blockchain technology innovation support center that will serve as an outpost for the establishment of clusters specialized in blockchain, and B-Space, which is used to support startup companies, we will make Busan a global blockchain-centered city," Busan's financial startup policy bureau director general Park Jin-seok said in a statement on December 7.
In August 2022, the city partnered with Binance, the world's largest cryptocurrency exchange, to build a digital asset exchange and carry out blockchain-related projects in its demonstration zone. Binance has worked with South Korean entertainment powerhouses, YG and SM, to push for virtual asset projects.
김주현(2022.12.07) "Blockchain technology support center to open in southern port city"
retrieved from hhttps://www.ajudaily.com/view/20221207094348736/