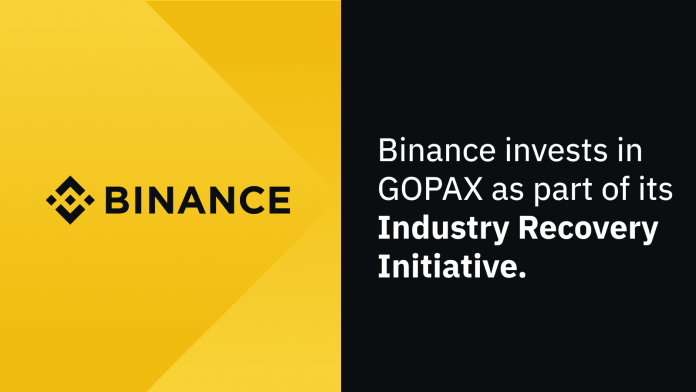 Binance Buys Part of GOPAX
Binance has completed a minority purchase of GOPAX, a South Korean digital asset exchange. The move allows Binance to re-enter the county's market for the first time since 2021.
The purchase is in conjunction with Binance's Industry Recovery Initiative (IRI), according to Binance's blog announcement from February 3. GOPAX has been seeking investment since late 2022 after halting the withdrawal of principal and interest payments. Binance will invest funds into GOPAX to help make users whole while also providing industry support for education and development.
"Binance has a responsibility to protect our users, as well as our industry," said Changpeng "CZ" Zhao, founder and CEO of Binance. "The Industry Recovery Initiative was created to support promising companies that were negatively impacted by the events of last year. We hope that taking this step with GOPAX will further rebuild the Korean crypto and blockchain industry."
The move comes after Binance reportedly passed due diligence in early January for a 41% purchase of the company. The terms of the deal were not officially disclosed.
The GOPAX acquisition marks the first time that Binance will have global crypto trading services in South Korea since 2021. The world's largest crypto exchange operated in South Korea from 2019 to 2021 and also helped Busan City develop a blockchain ecosystem. Binance recently opened an office in Busan in late Summer of 2022.
Binance launched the IRI in November 2022 following the collapse of FTX and upon seeing the incredible industry fallout from the situation. The world's largest exchange took it upon itself to create an industry organization to help support regular users in the industry who lose funds.
Kyle Heise(2023.02.03) "Binance Completes Purchase of Stake In South Korea's GOPAX"
retrieved from https://bsc.news/post/binance-completes-purchase-of-stake-in-south-koreas-gopax/