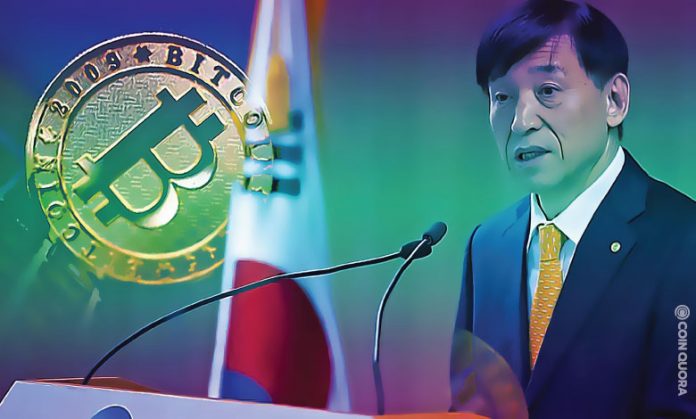 BOK Governor Not Impressed With Crypto
According to a report from local news outlet KBS on Thursday (April 15, 2021), the BOK Governor seems not to buy into the latest wave of cryptocurrency adoption, as he believes that crypto-assets have no intrinsic value.
Speaking at a monetary policy committee meeting, Lee Ju-yeol stated that "cryptocurrency has considerable limitations as a means of payment." The BOK chief added that the Chairman of the U.S. Federal Reserve Jerome Powell shares his sentiments about crypto lacking intrinsic value.
As previously reported, Powell stated that bitcoin was more of a substitute for gold, than the U.S. dollar. The Fed chair also made the long-worn argument about bitcoin's volatility, adding that the crypto asset was not useful as a store of value and also not utilized as a payment method.
However, the increased institutional adoption of bitcoin defeats the arguments by Lee Ju-yeol and Powell. In February, credit card giant Mastercard revealed that plans to support crypto payments on its network. Mastercard's rival Visa, earlier announced that it could add crypto to its merchants' network. Electric vehicle manufacturer Tesla began accepting bitcoin as a payment method for its product in March.
Digital Won Not Launching Any Time Soon
Apart from making comments about cryptocurrency, the BOK Governor also spoke about the central bank digital currency (CBDC). According to Lee Ju-yeol in response to the effect of CBDCs on the financial market, the South Korea central bank head said that he could not make any concrete statement on the matter.
Meanwhile, Lee Ju-yeol remarked that CBDC issuance "would take a long time." The South Korean government back in April 2020 said that it was in no hurry to issue a digital sovereign currency. At the time, the BOK launched a pilot program for its planned CBDC project, which would last for 22 months, ending in December 2021.
The South Korean central bank in October 2020 entered its final phase of its digital won pilot test program,and later published a book focusing on the legal issues associated with CBDCs. Meanwhile, the BOK governor recently stated that the launch of CBDCs by various central banks could reduce the demand for bitcoin and crypto as a payment option.
Anthonia Isichei (2021.04.16) Bank of Korea Governor Says Crypto as a Payment Option is Limiteds
retrieved from https://btcmanager.com/bank-korea-governor-crypto-payment/?utm_source=onesignal&utm_medium=push&utm_campaign=push%notification