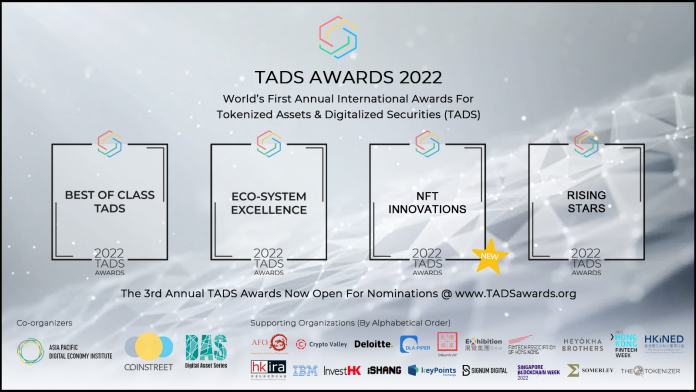 TADS Awards is the world's first annual international awards for the Tokenized Assets and Digitized Securities ("TADS") sectors. Nominations for TADS Awards can be submitted by the nominees directly or by a third-party nominator at the designated website (www.tadsawards.org). To keep pace with the growth of the dynamic TADS industries, this year, the 3rd TADS Awards has added a new "NFT Innovations" awards category covering five awards including Digital Art, Content/IP, Impact/ESG, Phygital, and Metaverse.
The nomination deadline for all three award categories is September 30, 2022. The awards presentation ceremony for the "Best of Class TADS" and "Eco-System Excellence" award categories will be held during the "Hong Kong FinTech Week" from October 31 – November 4, 2022, and the same for the "NFT Innovations" award category will be held during the "NFT-Metaverse Expo 2022" from November 4-6, 2022 at the Hong Kong Convention and Exhibition Centre. As a non-profit event, there is no cost for both nominators and nominees at any stage of the TADS Awards, and they are free to withdraw at any time. Information submitted during the application process will be kept confidential.
TADS Awards is co-organized by Asia Pacific Digital Economy Institute, Coinstreet Partners, and DAS (Digital Asset Series) Seminars. It has received strong support from strategic partners, including (alphabetically):- Accenture, Association of Family Offices in Asia, Crypto Valley Association, Deloitte Hong Kong, DLA Piper, FinTech Association of Hong Kong, Hong Kong Cyberport, IBM, InvestHK, Microsoft Hong Kong, Morningstar, Somerley Capital, The Tokenizer, and West Park Capital, among many others, plus support from its Global Ambassadors from over sixteen countries.
TADS Awards 2022 will select a total of fifteen winners from three award categories (five awards for each category), along with a special Rising Star Award for each category created to encourage start-up companies and recognize innovative proof-of-concept projects in TADS industries.
1) "BEST OF CLASS TADS" category is for issuers of different types of Tokenized Assets & Digitized Securities, including –
• Equity-Backed Token
• Asset-Backed Token
• Tokenized Debt Token
• Income-Backed Token
• Impact / ESG Token
• TADS Rising Star
2) "ECO-SYSTEM EXCELLENCE" category is for service providers and vertical solution providers along the TADS value chain, including –
• KYC / Custodian Solution
• Tokenization & Brokerage Solution
• Trading & Liquidity Solution
• DeFi & Asset Management Solution
• NFT Platform & Marketplace
• Ecosystem Rising Star
3) "NFT INNOVATIONS" category is for issuers of different types of NFTs, including
• Digital Art NFT (new)
• Content/IP NFT (new)
• Impact/ESG NFT (new)
• Phygital NFT (new)
• Metaverse NFT (new)
• NFT Rising Star (new)
Some of the winners of past TADS Awards include (alphabetically): Archax, Bitt, Covario, CurrencyWorks, DigiShares, InvestaX, IX Fintech, Kansong Art Museum, Publish, Ledger, Securitize, Prime Trust, Sumitomo Mitsui Trust Bank, and Tokeny Solutions. A complete list of previous TADS Awards can be found at https://tadsawards.org/past-results/.