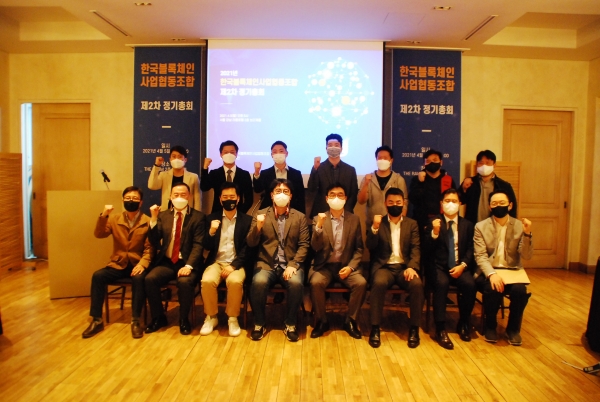 Supertree CEO Sung-Wone Choi was elected as the 2nd chairman of the board of Korea Blockchain Cooperative.
Korea Blockchain Cooperative held the 2nd regular general meeting at Raum Hotel in Gangnam-gu on the 5th, and appointed Choi Sung-Wone, CEO of Supertree, as the 2nd chairman and finished the appointment of executives.
Blockcrafters CEO Park Soo-Yong, Kodebox CEO Seo Kwang-Yeol, Hashed CEO Kim Seo-Joon, YSK Partners CEO Jung Ju-hee, and Hanky & Partners CEO Kim Han-Seok were appointed as directors.
In addition, Huobi Korea CEO Park Si-Deok and Blue Helix CEO Chae-Hoon were elected as finance managers.
In his opening remark, Chairman Sung-Wone Choi said, "Blockchain technology is one of the core technologies in the era of the 4th industrial revolution." "The non-face-to-face era triggered by COVID-19 will further accelerate the expansion and usability of blockchain technology."
He added, "In the meantime, SMEs and startups with blockchain technology should lead the way to proactively respond to the 4th Industrial Revolution and create innovative momentum."
"Through this, Korea Blockchain Cooperative should work together to create a competitive domestic blockchain company in the global market," he stressed.
On this day, Jun-Ho Han, member of the National Assembly Science and Technology Information Broadcasting and Communication Committee, said through a congratulatory address, "Congratulations on the start of the 2nd phase of Korea Blockchain Cooperative, the only legal organization in Korea,
Blockchain technology, which is essential for rapid transition to a non-face-to-face society, has already produced meaningful results in Korea. Now, the National Assembly will also work hard to receive a good reputation from overseas."
Hoon-Hee Park, the first chairman of the board, said, "Today is the launch date of the 2nd Korea Blockchain Cooperative, but the history of Korea Blockchain Cooperative, which started from a private legislation discussion group, has been over 3 years. And the goal of the initial establishment, the legislative effort, is still unchanged," he said and emphasized that he will continue to strive for the Korea Blockchain Cooperative.
Currently, Korea Blockchain Cooperative has 50 member companies and is the only legal organization in Korea that has been approved by the Ministry of SMEs and Startups.