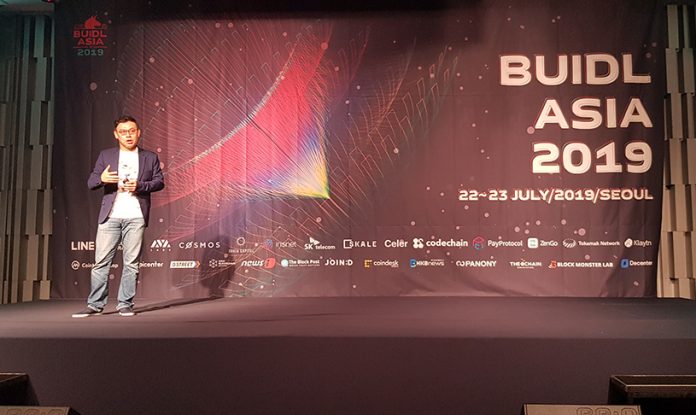 SK Telecom has released detailed information regarding its blockchain network "STON Ledger" during BUIDL Asia, on Jul. 22. SK Telecom, Korean mobile network conglomerate, finally released details regarding its blockchain network after it declared joint partnership with Samsung, LG, and Korean banks to develop blockchain-based services. VP of R&D, SoftwareLabs at SK Telecom, Lee Kangwon explained distinct characteristics of SKT blockchain services and its early business model, explicitly regarding DID(Decentralized Identifiers). He told that "There are two things to remember about STON Ledger. No Coin, No Public."
STON Ledger is an enterprise blockchain to replace the function of the ledger. Lee explained that the slogan of STON ledger would be "What you write in STON never changes." He said, "Blockchain networks and cryptocurrency  must focus on winning back international and domestic trust." Thus, STON ledger will not issue any coins or tokens so that it can hedge the risk of being exploited as investment assets. Also, as STON ledger will mainly be for enterprise, it will be a form of closed blockchain, with only established members participating in the nodes.
STON Architecture will include Wallet, DID, Smart Contract, Secure Key Storage, and Oracle services. However, among these services, particular emphasis was put on the DID service. Lee explained that it plans to ultimately integrate all ID, ownership information, and contract information. It seems like a result of a joint association between seven major international companies of Korea, including Samsung and LG. According to a service scenario released during the presentation, there would be banking information, education certificates, driving license, and ID all integrated into an application. Lee also mentioned the possibility of SK's membership point, "OK Cashback" being integrated into the system and widely used in an ecosystem the Korean conglomerates are building.
Though any specific dates were not disclosed, hopes are up high among Korean crowds, as blockchain services run by Korean conglomerates will likely lead to a breakthrough in regulations and market penetration.