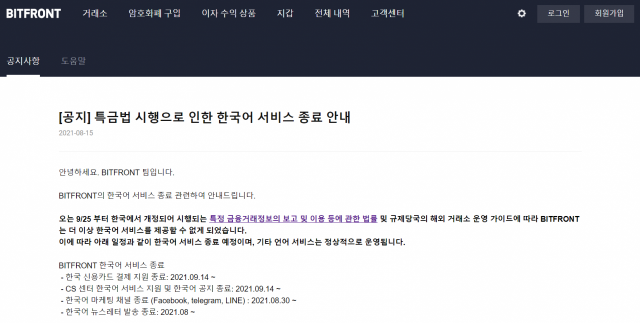 Fines will be imposed immediately following the Sept. 24 deadline.
Ahead of the enforcement of the relevant law in September, overseas exchanges are suspending Korean language support. This is in response to the Korean government's intent to recognize any overseas exchanges with Korean-version websites as domestic operations subject to reporting under the Special Financial Transaction Information Act.
In April, an official from the Korea Financial Intelligence Service said, "Even if there is no head office or office in Korea and is effectively managed overseas, it is correct to report a business that conducts virtual asset trading." Non-compliance would be punishable by imprisonment of up to five years or by a fine not exceeding 50 million won.
On Sept. 17, Bitfront will follow Binance in ending its Korean service. Generally, these specific language services of overseas exchanges are connected to customer support, payment, marketing, and communication channels.
The Financial Services Agency of Japan is already managing Type 1 and Type 2 licenses through JVCEA. Under that arrangement, if there is Japanese language support on an exchange that is not licensed, the exchange must sign up as a member of the Type 2 licenses of JVCEA with a warning for further evaluation.
The current actions of government authorities such as the Financial Services Commission and the Financial Intelligence Service are similar to those of the Financial Services Agency of Japan. The Financial Services Agency is in the process of pre-examination and post-management before and after the enforcement of the domestic money settlement law such as the Special Financial Transaction Information Act.
After the Special Financial Transaction Information Act is enforced, existing business operators (both domestic and foreign exchanges) must prepare and report relevant documents by Sept. 24. However, only four exchanges in Korea have secured real-name accounts so far, and none of the exchanges that have newly acquired ISMS authentication numbers since last year have passed the real-name account examination.
Some industry officials predict that only four exchanges will remain, and the rest of the exchanges will be closed or operated without the KRW market.
Foreign exchanges are now strategizing their next steps after the withdrawal of Korean service. And there seems to be more confusion among the ones we've spoken to and no real guidance from any of the Korean agencies. One foreign exchange agent we interviewed said, "We plan to monitor the situation for a while. It is easy to delete the Korean menu on the website and app, but we are still considering whether to give up Korean service support around Chuseok next month."
Some say that ISMS authentication and real-name accounts are mandatory for domestic exchanges, however overseas exchanges have an advantage over exchanges operating in Korea if they only need the ISMS authentication number. Some are saying that they will share an order book with an exchange that has been officially licensed in accordance with the cryptocurrency-related laws among FATF member countries, and will set up an office in Korea for ISMS certification examination based on this, so that they can continue without having to actually register.
Another foreign exchange rep. commented, "Isn't it Korean law for an overseas exchange to be able to operate in Korea if it has ISMS?"
—
Unless the Korean government and the relevant agencies issues more specific guidance on how to register as a foreign exchange, packing up and leaving Korea seems like the only sure thing for now.