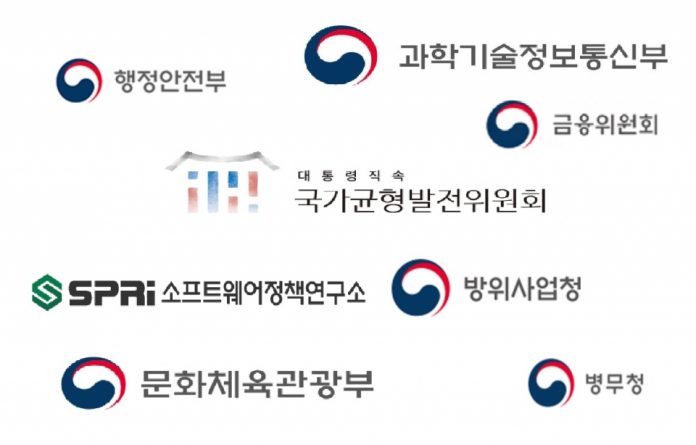 Korean Government Agencies Supporting Blockchain Technology
• Ministry of Science and Technology (ICT) – Will invest over $380 million over 6 years (2021-2026) into Blockchain Research and Development. They are looking to innovate public services such as facial recognition, tracking, and mobile personal identification by using AI and Blockchain.
• The Korea Internet Security Agency (KISA) – They support Blockchain-related projects through their $9 million Fund for 2020. Therefore, the maximum funding per project is $1.2 million. In addition, they will work with the Ministry of Science and Technology to launch pilot Blockchain projects in March of 2020.
• The Ministry of Science and ICT – Invested $9 million to launch Blockchain pilot projects in the public sector.
• Defense Acquisition Program Administration (DAPA) – Will use Blockchain technology to digitally bid on defense contracts and to log the process of applying for and granting funding.
• Korea Customs Service (KCS) – Launched the "Fourth Industrial Revolution and Smart Customs" project, with the aim of introducing AI, the Blockchain, and Big Data to back up Customs processes.
• National IT Industry Promotion Agency (NIPA) – A government agency that offers programs to nurture Blockchain companies. In addition, they have a $5 million fund for Blockchain enterprises and startups.
• Korea Financial Telecommunications and Clearings Institute (KFTC) – This is an organization that overseas payment settlements. Furthermore, it aims to introduce its own Blockchain-enabled mobile ID solution.
Additional Government Agencies that Support Blockchain in Korea
• The Korea Post – Will build a Blockchain-powered payment method incorporated in its postal service by partnering with Korean Blockchain company Coinplug and global IT company NHN.
• Presidential Committee on the Fourth Industrial Revolution (PCFIR) – The PCFIR was set up in 2017 to advise on policies relating to new technologies such as Blockchain and help lay the groundwork for related new industries and services. They have stated that the Korean government should look into bringing in a licensing scheme or guidance for cryptocurrency exchanges in Korea.
• Seoul Blockchain Support Center – A 2,014 square center that will lease office spaces for Blockchain startups. In addition, they offer customized accelerator services for Blockchain companies.
• The Korean Financial Services Commission (FSC) – The FSC has partnered with the Seoul Metropolitan Government to invest $16 million in training digital finance experts for 4 years. The grant is to ensure educational opportunities for the next generation of fintech professionals in fields such as big data, cloud, and Blockchain.
Blockchain Projects for Government Agencies and Administrations in Korea
• The National Police Agency – A platform for Blockchain-based digital evidence management.
• The Rural Development Administration – A platform for Blockchain-based crop production and logistics management.
• Ministry of Food and Drug Safety – A Blockchain-based welfare benefit management platform. They already have set up a national HACCP platform by using Blockchain technology. In addition, they will establish an imported food data management platform in 2020.
• Gangwon Provincial Government – A Blockchain-based chronic disease management platform.
• South Gyeongsang Province – A Blockchain-based platform for self-driving reliability enhancement in Sejong City.
• Korea Expressway Corporation – A platform for Blockchain-based toll payment.
• Military Manpower Administration – Will adopt a new biometric ID and authentication solution designed by Raonsesure, a top South Korea ICT security software company.
Johnh(2020.07.15) Blockchain in Korea – A Complete Guide for 2020
retrieved from https://seoulz.com/blockchain-in-korea-a-complete-guide-for-2020/