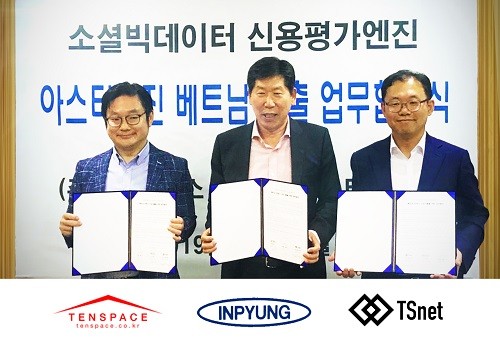 Tenspace, a fintech corporation that developed social data-based A.I. analysis technology Aster engine, has announced on July 25 that they have concluded agreements with Inpyung and TSNET. Inpyung is a company with fifteen years of business experience in Vietnam. TSNET manages ASTER engine based blockchain coin issuance and operation.
Aster engine has secured 87.9% level of accuracy compared to the existing credit score assessment analysis. It employs an artificial intelligence system to process more than 80 thousand variables based on social big data. This cutting edge technology is already used in SCI, one of the top two Korean financial information providers.
Also, as the Aster engine's analysis technology is evaluated to be outstanding enough to satisfy AML standards, it is expected that it will quickly spread throughout the market. Experts expect the Aster engine to be widely applied in social credit assessment and micro-loan upon entering the Vietnamese market. Many major banks in Vietnam are already contacting Tenspace for cooperation.
Entering the Vietnamese market is a good chance to lead the Southeast Asian fintech market because Vietnamese market itself is the Fintech leading market in Southeast Asia.
The support of Inpyung was behind Tenspace's decision. Inpyung has accumulating business infrastructures for more than a decade in Vietnam. It is based on city development projects in which more than four thousand residence apartment complexes was included. Inpyung's infrastructures will play a vital role in Tenspace's operation in Vietnam.
As TSNET announced to cooperate for the cryptocurrency business after its incorporation in Vietnam, there is much attention towards the Aster engine's Vietnam fintech business.
Kim Eunhee(2019. 07. 25.) 세계 최고수준 소셜신용평가분석 아스터엔진 베트남 진출로 동남아 핀테크 시장 견인
Electronic Times, retrieved from http://www.etnews.com/20190725000283?obj=Tzo4OiJzdGRDbGFzcyI6Mjp7czo3OiJyZWZlcmVyIjtOO3M6NzoiZm9yd2FyZCI7czoxMzoid2ViIHRvIG1vYmlsZSI7fQ%3D%3D#_enliple