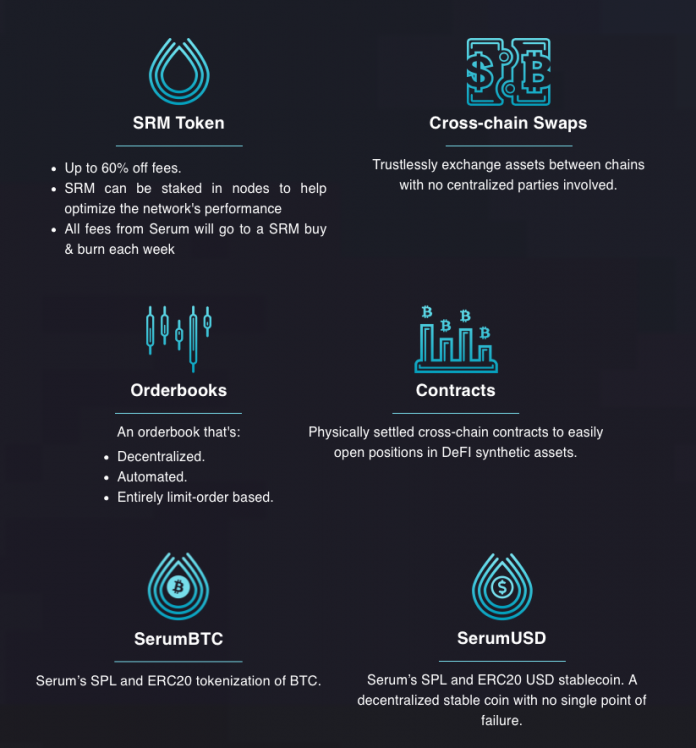 The Serum Foundation produced a whitepaper proposing the structure of the Serum network and launching the SRM token. Project Serum, a consortium of cryptocurrency experts and professionals, has worked together to make Serum a reality. They've worked tirelessly to write workshop ideas, build networks, write code, and prepare the launch of Serum.
Project Serum has partnered with a number of key players in DeFi, including FTX, Gauntlet Network, Multicoin, Kyber Network, 3Commas, Alameda Research, CoinGecko, TomoChain, Robot Ventures, BCoin, and Solana to build out the Serum network. Its key advisors include Sam Bankman-Fried (CEO, FTX); Calvin Liu (Head of Strategy, Compound Finance) and Robert Leshner (Founder, Compound Finance); Sebastian Conybeare (Head of DeFi, Alameda Research); Dan Matuszewski (Principal and Co-Founder, CMS); and Long Vuong (CEO, TomoChain).
The Serum network, along with the SRM token, are anticipated to start rolling out in the next few weeks. Serum is a fully decentralized, fast, power network built on the Solana blockchain including a DEX, tokenized products, cross-chain swaps, and a specialized governance SPL token coming together, aiming to create the best built product and experience in DeFi.
Learn more:
– projectserum.com
– https://twitter.com/SBF_Alameda/status/1287661223043928064
Follow us here:
Telegram – https://t.me/ProjectSerum
Twitter – https://twitter.com/ProjectSerum