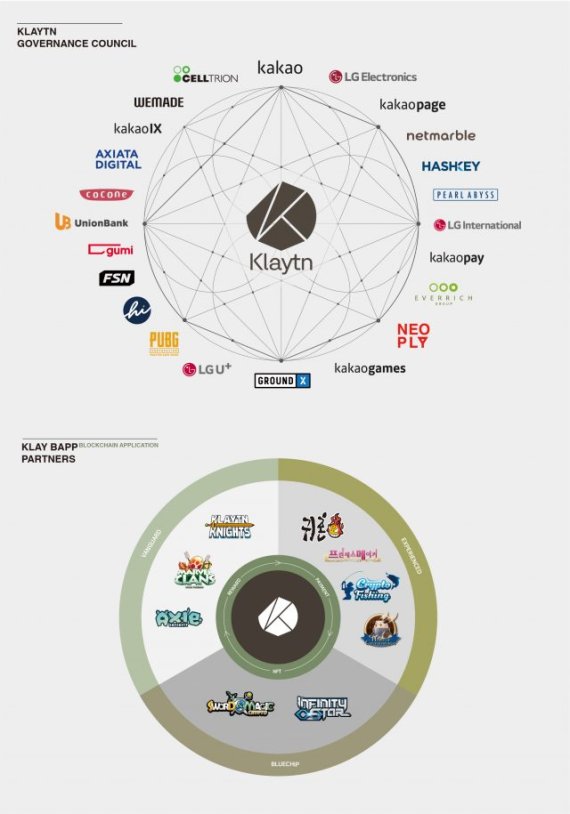 Klyatn will become Asia's dominant blockchain platform, leading popularization of blockchain.
Klaytn is presumed to begin its service from early July.
9 services including 'Pibble' and 'Hintchain' will launch ahead.
Blockchain platform 'Klaytn', co-operated by Kakao, LG, Celtrion, Netmarble, and other global companies has now officially launched. More blockchain applications would be released starting early July.
According to Kakao on June 27th, its technology subsidiary, Ground X, will launch main-net of Klaytn, and its partner 'Governance Council' will co-operate the platform.
Klaytn is a platform aiming to popularize blockchain by proving the technology's value and utility. It will focus on meeting large user-based services' needs for performance and scalability, essentially aiming to provide environments for the stable operation of actual service.
Subsidiaries of LG Group, Netmarble Corp, and Unionbank of the Philippines will join the platform
Klaytn has been operating test-net for the past 3 months to perfect its platform through receiving feedbacks from its partners. According to the firm, the service will have a speedy response time at the level of legacy web services. Achieving short block time of one second was the key to the speedy response time. In addition, it has run high-level security testing with four different online security companies to prove its stability.
Partners of 'Governance Council' will be important stakeholders when operating Klaytn. Governance Council consists of 20 multinational corporations, each representing its field in IT industry, content industry, game industry, financial industry, and so on. Kakao X explained that the Asian region leading the blockchain industry and its population being open to new technology were the reasons why Governance Council consists of different Asian companies.
Governance Council will be responsible for making decisions on Klaytn's technology and business as well as operating its consensus node. There have been talks about expanding Governance Council's roles to new service development or applying blockchain technology to preexisting businesses.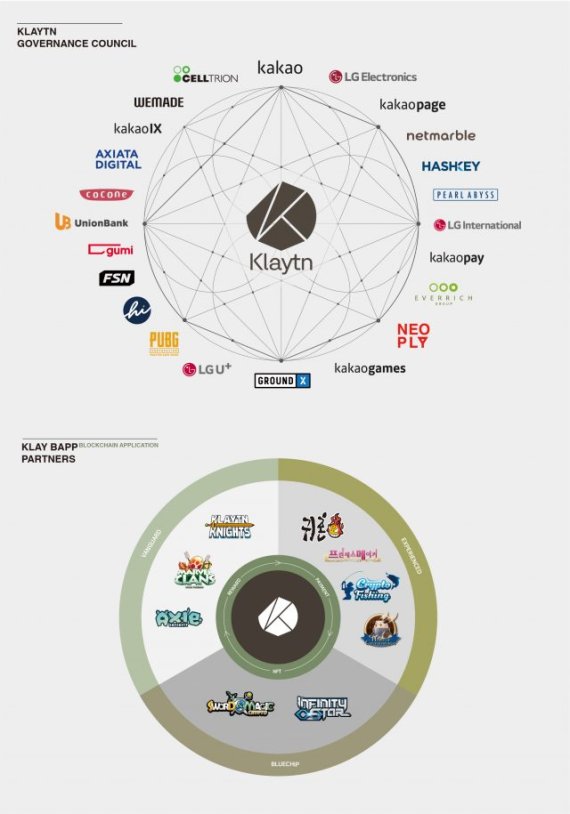 Korean companies such as LG subsidiaries, including LG Electronics, LG International, LG Uplus); Celltrion, Korean biotech company; Netmarble, Korea's number 1 game company; WeMade, company owning intellectual property of game 'Legend of Mir', with over 5 billion accumulated users; PUBG, developer of PlayerUnknown's battlegrounds; Pearl Abyss, developer of game 'Black Desert', published in more than 150 countries; Neoply, venture capital investment arm of NEOWIZ; FSN, digital marketing agency are taking part in Governance Council. Kakao services, including KakaoPay, KakaoPage, KakaoGames, and KakoIX will join the Governance Council as well.
Many top-tier Asian companies are also included in the council. Unionbank of the Philippines, one of the largest banks in Philippines; Axiata Digital, digital service affiliates of South East's largest telecommunication conglomerates; Hashkey, Hongkong based fintech firm that is in partnership with Wanxiang Blockchain Labs; Ever Rich, Asian real estate investment firm; Hi Inc., the Hong Kong-based unicorn company engaged in global travel and lifestyle business providing services to hotels; Cocone, the leading social network digital content company from Japan; and Gumi Inc, the leading global mobile game publisher and developer headquartered in Japan, are also part of Klaytn Governance Council.
In order to create more partnership and encourage pre-existing partner's service operation, Klayton will also introduce motivation systems called 'PoC(Proof of Contribution)' and 'KIR(Klaytn Improvement Reserve)'. With the help of PoC, partner companies will be provided with additional KLAY, Klaytn's token, when notable achievements are made. KIR is a system that rewards partners when it helps Klaytn develop further in both technological and business sense. For example, partners are encouraged to hold Klaytn community meet-ups or conduct research projects on Klaytn.
In addition, 'Klay BApp Partners' are introduced. They aim to further facilitate Klaytn ecosystem. The partners make use of Klay, Klaytn's cryptocurrency, as reward and means of payment. Users can earn Klay and make transaction with Klay across different BApps.
Klay BApp Partners will mainly consist of game companies 
Game companies that have proven its competency in other blockchain platforms will be Klay BApp Partners. Blockchain game company Biscuit will launch Klayton Knights, a customized version of its well-known blockchain based RPG game, EOS Knights. Klayton Knights will start its pre-registration from June 28th.
Marvel Clans, developed by MixMarvel, known for game Hyper Snake and Axie Infinity developed by Vietnamese game company Sky Mavis will also launch in 2HFY19.
Many well-known intellectual properties will be re-made to fit Klaytn ecosystem. KOSDAQ listed company, MGame, with 21 million user base, is developing blockchain game using IP of Ghost Online and Princess Maker. Blockchain venture capital and accelerator Hashed will encourage its partners to develop games under Klaytn ecosystem. Node games' Crypto Sword & Magic; Node Bricks' Infinity Star and Crypto Fishing; and Neoscien's Hero of Crypto World will make use of Klay.
Jaesun Han, CEO of Ground X, said "We have established a foundation for the popularization of blockchain through the launch of main-net. Ground X will increase the number of service partners and BApp partners to facilitate Klaytn ecosystem". He further emphasized, "The combined market value of companies participating in Governance Council is over 75 trillion won(around 64.8 billion dollars). Co-operating Klaytn with such responsible and high-valued companies will further increase the platform's stability and reliability."
Huh Joon(2019.06.27.) '블록체인 대중화 선언' …글로벌 연합군 '클레이튼' 출격.
The Financial news. Retrieved from  https://news.v.daum.net/v/20190627134235356