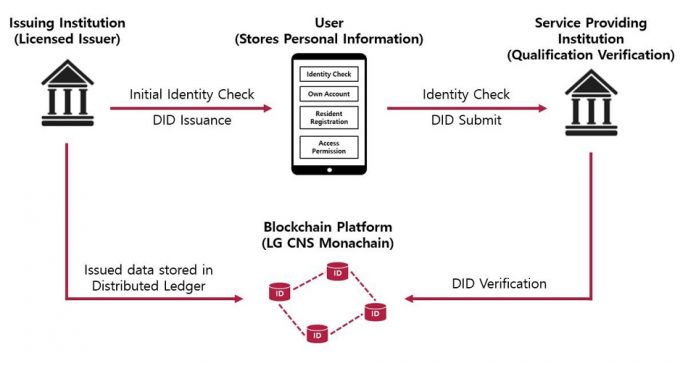 LG CNS announced on Sept. 1 that it will participate as a steering member of the Trust Over IP Foundation (ToIP Foundation), a global organization for decentralized identity (DID).
ToIP Foundation was set up to establish international technical standards and policies for the global identity certification system. It plans to develop a DID standard model that is compatible with the standards of the World Wide Web Consortium (W3C) and establish a digital identity certification system that can be used anywhere in the world.
Currently, more than 110 global companies and institutions are participating, and it is the world's largest consultative body in the field of DID technology standards.
The ToIP Foundation's steering committee includes 19 global companies and public institutions that are leading the establishment of DID standards, including IBM, MasterCard, British Columbia in Canada, Accenture and Evernym.
LG CNS is the only Korean company participating as a member of the ToIP Foundation's steering committee. The committee gathers opinions on DID standards, protocols, governance, etc. through a plenary session once a month, and conducts final deliberations and decisions.
By participating in the ToIP Foundation's steering committee, LG CNS will be on par with global companies that are leading the establishment of DID international standards.
LG CNS is planning to actively present its opinions on its own block chain technology and DID standards. It will also actively utilize the ToIP Foundation's standard technologies and protocols to build a DID platform based on the LG CNS blockchain platform Monachain.
DID is a new technology that proves an individual's identity with a blockchain technology. The services of various agencies can be used without further certification as a single identity. It is widely seen as a technology that will implement My Data in accordance with the Enforcement Decree of the Data 3 Act and enable development of ID cards that can be used anywhere in the world.
"Our participation in the ToIP Foundation's steering committee proves that LG CNS has risen to a global level in the field of block chain," said Lee Joon-won, head of solution business development at LG CNS. "We will work with global companies participating in the ToIP Foundation to create a blockchain-based DID solution and service model that can be used globally."
Jung Jun-ho(2020.09.02) LG CNS leads the establishment of world standards for 'next generation digital identification'
retrieved from http://www.koreaittimes.com/news/articleView.html?idxno=100089