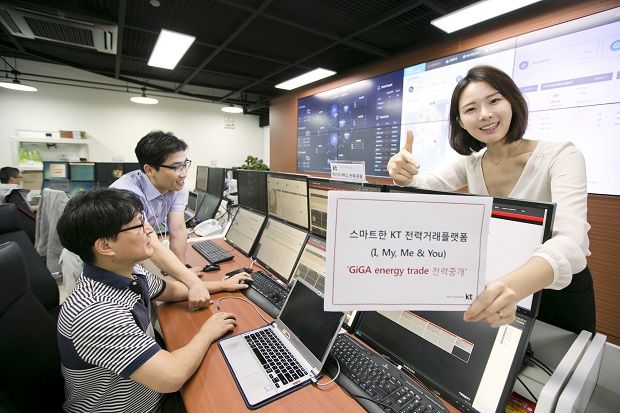 KT has announced on July 28 that they will launch a blockchain-based small-scale electricity brokerage service, "GiGA Energy Trade."
Electricity brokerage service is a business where a brokerage service provider stores electric power under 1megawatt (MW) from the sources such as renewable energy, energy-saving systems (ESS), and electric vehicles, to provide transaction proxy service.
"GiGA Energy Trade" of KT is developed based on an energy management platform "KT-MEG (Micro Energy Grid)." "E-Brain,' the AI analysis engine attached to the KT-MEG, allows GiGa Energy Trade to not only manage the energy but also analyze, predict, and control the overall flow of electricity.
More specifically, the basic services of the GiGA Energy Trade are power generation and profit analysis; System Marginal Price (SMP); REC market information; National development source management; and Profit analysis of the business. The premium service for trading purposes provides all the features in the basic services plus a transaction proxy service in REC spot market.
KT is planning to participate in the renewable energy gross generation prediction system of the Korea Power Exchange.
Lee Giwuk, an executive director of KT Energy Platform Business Group, said, "KT has become the general energy service provider embracing energy production, consumption, and transaction through launching GiGA Energy Trade. We will continue to contribute to the stability of the national power system as well as the maximization of customer generation profit based on our advanced AI and blockchain technologies."
Sun Minkyu (2019.07.28.) KT, 전력중개 서비스 '기가 에너지 트레이드' 출시
ZDnet, retrieved from https://www.zdnet.co.kr/view/?no=20190727195326