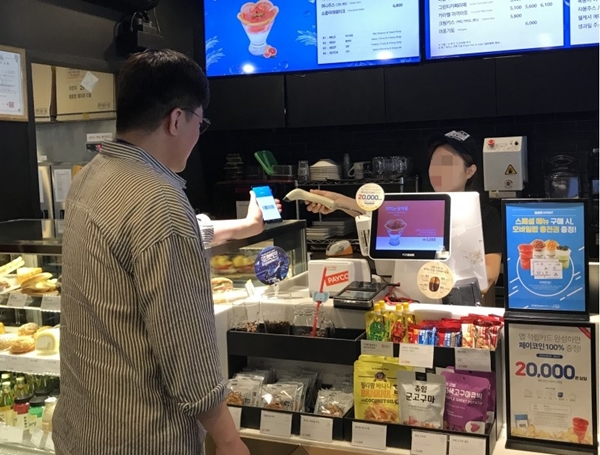 Blockchain companies such as Terra, Huobi Group, and Paycoin are drawing attention by expanding real-life payment area using cryptocurrencies. These companies are making efforts to secure offline stores such as hotels, convenience stores and bookstores as franchises, and to obtain a large number of consumers by building a full range of payment platform using the alliance.
Recently, according to blockchain industry, the ratio of using cryptocurrency as means of investment rather than a method of payment is increasing all over the world.
According to a report of '2gether', a global cryptocurrency payment company, almost total usage of Bitcoin and Ethereum is used in real life. Bitcoin used for payment was 51.80% of total usage and Ethereum was 39.28%, followed by Ripple (2.16%) and Bitcoin Cash (1.62%).
The report explained that cryptocurrency users consume cryptocurrencies mainly for living expenses in restaurants, hotels, and supermarkets, with the largest number of users in their thirties (31%) and men (77%).
Indeed, actual trades using cryptocurrencies are on the rise in Korea. One million users have made more than one transaction on Terra, a blockchain-based payment platform.
The Terra platform has established an alliance that uses the stablecoin 'Terra' as a digital currency. The Terra Alliance consists of 25 e-commerce platforms in Asia, including TMON, BDMJ, Yanolja, global shopping platform Qoo10, Southeast Asia's largest second-hand dealings site Carousell and TIKI of Vietnam.
Terra launched blockchain-based simple payment service in cooperation with the Chai Coporation, which operates the simple payment app 'CHAI', in June last year. When the consumer makes a payment, the consumer withdraws cash from the bank account and converts it to a point (electronic payment method), and the payment history is recorded and linked to the blockchain.
Blockchain companies like Huobi and Paycoin are continuously expanding the area of payment market using cryptocurrency in the offline franchises.
An official of the blockchain industry said, "With cryptocurrency, fees are much lower than card payments, and you can make profits by creating profitable payment platform from mining. "If there are more franchises that can accept cryptocurrency payments, the convenience will increase, so the market will be expanded," the official added.
Kim Tae-hwan(2020.01.22) "암호화폐 실생활 결제 확산…대중화 본격 시동"
retrieved from http://news.mtn.co.kr/newscenter/news_viewer.mtn?gidx=2020012216580434244