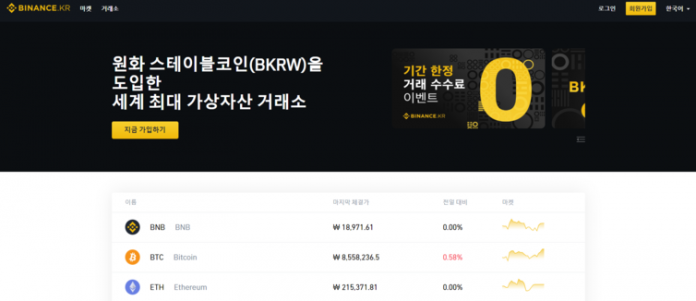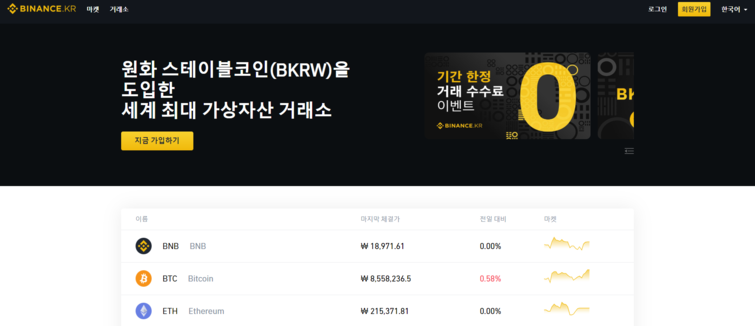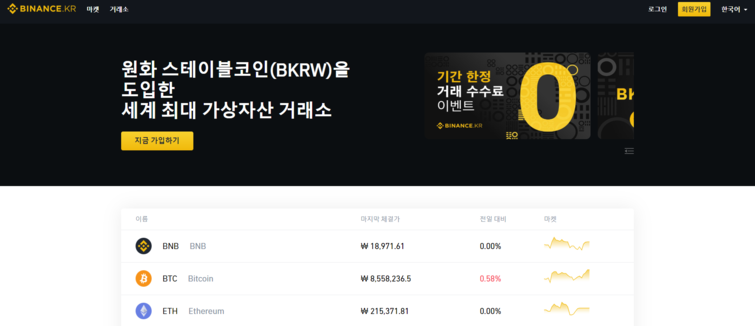 Binance, the world's largest virtual asset exchange, has entered Korea with the introduction of new exchange 'Binance KR'. However, the outlook for Binance KR doesn't look very promising, as global exchanges that have advanced into Korea have made a little progress.
Huobi, OKEx, and DigiFinex, the global virtual asset exchanges ranked in the top 20, entered Korea in 2018 under the names of Huobi Korea, OKEx Korea, and DigiFinex Korea. Although the head office is not directly involved in the management of each Korean corporate body, market participants showed great expectations for the advancement of these exchanges to the Korean market based on the reputation of the exchanges. However, they have made a poor showing.
Huobi Korea and DigiFinex Korea's daily Bitcoin (BTC) trading volume in the KRW market on the 22nd was 760 million won and 460 million won, respectively. Since OKEx Korea shares orderbooks with global exchanges, it is difficult to estimate the exact figures, the trading volume is expected to be less than Huobi Korea and DigiFinex Korea because the KRW market service is suspended. On the other hand, the trading volume of Upbit and Bithumb are 31.5 billion won and 26.4 billion won, respectively and these are more than 40 times higher than above-mentioned exchanges.
These exchanges do not obtain real-name verified accounts from banks like the four major exchanges in Korea: Bithumb, Upbit, Coinone, and Korbit. With the passage of the amendment to the Specific Financial Transaction Information Act, these exchanges are trying to meet the requirements to become a virtual asset service provider (VASP), such as information security management system (ISMS) certification and real-name verified account issuance. This is not to secure the trading volume with users through aggressive marketing, but rather to ensure internal stability and enter the formal sector. However, since finalizing the enforcement ordinance of the Specific Financial Transaction Information Act and VASP certification takes more than one year, it is not clear whether these exchanges will be able to maintain similar trading volume until next year.
Binance KR established Binance LTD in Korea. Binance LTD is not directly operated by Binance.com. However, Binance KR and Binance.com can cooperate by sharing and using BKRW to allow users to participate in trading within Binance.com. However, it is not clear whether this strategy will be effective in attracting users.
Two weeks after the service launch, the daily trading volume of Bitcoin is around 60 million won in the BKRW market, which is a stablecoin linked with Korean won. However, if it increases the number of coins listed in the future and increases accessibility to Binance.com through the BKRW market, it may attract more users. However, the industry believes that it will be difficult to grow equally with Bithumb and Upbit based on the previous examples.
Kang Ji-ho, co-CEO of Binance LTD, said, "With excellent technologies and services of Binance, we won't face difficulties in securing users."
ChangPeng Zhao, CEO of Binance, said, "It may be difficult to operate Binanace KR now because the global virtual asset market including Korea is in a downturn, but in the long run, the market is expected to be revitalized." "It will take more than a year before the enforcement ordinance of Specific Financial Transaction Information Act takes effect. During this period, we will continue to invest and cooperate with Binance KR to secure the trading volume with users," he added.
Kim Ka-young(2020.04.23) 국내서 힘 못쓰는 글로벌 거래소
retrieved from https://paxnetnews.com/articles/59742