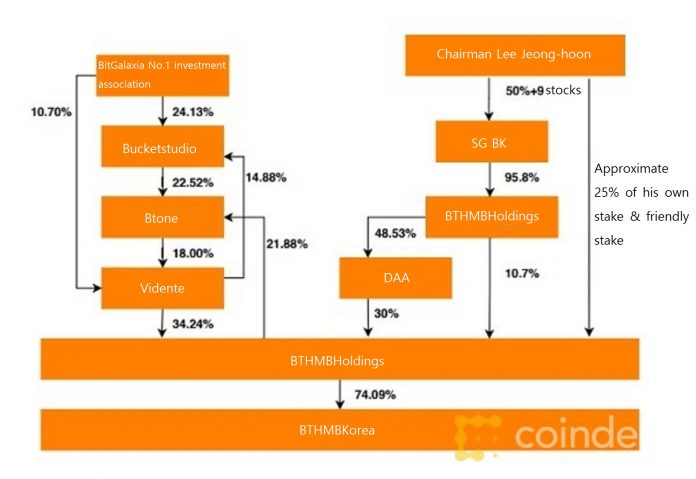 CoinDesk Korea analyzed the actual corporate governance of affiliates surrounding Bithumb. We figured out that Lee Jeong-hoon, chairman of Bithumb Holdings and Bithumb Korea, currently exercises the greatest dominance over Bithumb. 
According to a report by CoinDesk Korea on the 28th, the largest shareholder of Bithumb is a chairman Lee Jeong-hoon. He dominates Bithumb through foreign corporation SG BK (SG BRAIN TECHNOLOGY CONSULTING PTE.LTD), BTHMB Holdings and DAA. 
Bithumb's corporate governance (As of December 31, 2019). Chairman Lee Jeong-hoon dominates Bithumb Holdings, the holding company of Bithumb, with a stake of about 65%, including his friendly stake. Source=CoinDesk Korea
Bithumb Holdings, which holds 74.09% of Bithumb Korea's stock, is the most important company in understanding the corporate governance of Bithumb. As of December 31, 2019, the company's largest shareholder is Vidente with 34.24% of its shares. However, Vidente is not only shareholder of Bithumb Holdings. DAA, the second largest shareholder, holds 30% and BTHMB Holdings, which is in charge of listing examination of Bithumb, holds 10.70% of its shares.
Based on the specific corporate governance, DAA and BTHMB Holdings are practically same company. This is because BTHMB Holdings is the largest shareholder of DAA (48.53%). Therefore, BTHMB Holdings, not Vidente, is the largest shareholder of Bithumb Holdings. 
The largest shareholder of BTHMB Holdings is SG BK, a Singapore corporation, and Lee Jeong-hoon currently holds more than 50% of its stake. This is the point of the corporate governance of Bithumb. An official of Bithumb said, "In addition to the stake through SG BK, Lee Jeong-hoon has friendly stake of approximately 25% including his own stake in Bithumb Holdings." 
Bithumb has been reluctant to disclose its corporate governance. Until Chairman Lee Jeong-hoon appeared in the media, it never even expressed its stance about the real owner of the company. Therefore, there are many speculative articles despite the fact that it is difficult to figure out the real owner because the main affiliates include unlisted companies and foreign corporations. 
Kim Jae-wook, the CEO of Vidente who has been considered several times by the media as the owner of Bithumb, is another axis of the corporate governance. It continues from CEO Kim Jae-wook to BitGalaxia No.1 investment association, Bucket Studio, BTOne and Vidente. Ultimately, he exerts his influence on Bithumb through Vidente's stake in Bithumb Holdings. Vidented holds the largest stake as a single company, but its impact is limited based on the structure of all affiliates. 
On the 28th, BTOne appointed directors at the general shareholders' meeting. Vidente's executive director Moon Chang-kyu, OmniTel's auditor Oh In-tae and President of Seoul Medicare Kim Kang-ho were appointed as new directors.
Kim Dong-hwan(2020.04.28) 빗썸홀딩스, 이정훈 지분이 비덴트보다 많다
retrieved from http://www.coindeskk orea.com/news/articleView.html?idxno=70801