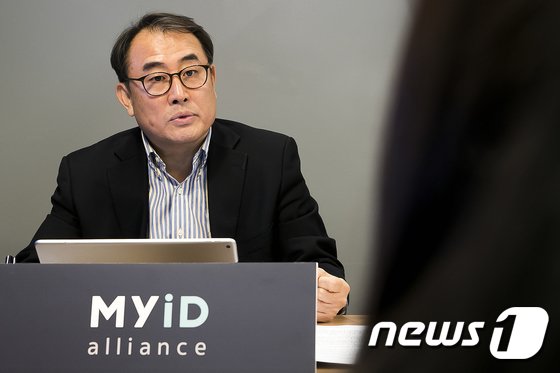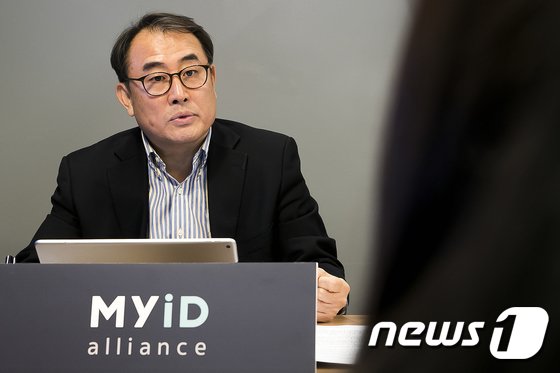 "The outbreak of novel coronavirus infection (COVID-19) will be a turning point where non face-to-face digital transactions become popularized."
Park Sun-moo, head of the DID research cooperation 'MyID Alliance', consisting of 47 domestic and international companies and institutions, including Samsung Electronics and Shinhan Bank, recently met News1 and said, "The role of blockchain-based digital ID (DID) will become more important in trading of financial and digital assets based on high reliability."
◇"DID allows financial transaction at all financial institutions without an accredited certificate"
ICONLOOP, a domestic blockchain developer, built the blockchain-based joint verification system 'CHAIN ID' in 2017 with 26 domestic financial and investment companies amid the abolition of accredited certificate system.
ICONLOOP and financial companies have developed 'MyID', a decentralized self-sovereign identity management DID platform that can be used in various financial sectors, as well as 'CHAIN ID' with the concept of accredited certificate. This is to prove that digital ID card can serve as current ID card. MyID was selected as an innovative financial service by the Financial Services Commission (FSC) in June last year.
MyID is a platform that can be freely used for other financial institutions and all financial services that require identity verification when a user first authenticates personal data (DID) from a financial institution. For example, a user can use non face-to-face account opening service and credit rating inquiry service from Samsung Securities with DID issued by Shinhan Bank.
The FSC gave a privilege on the 20th of last month to verify identity through MyID in the digital financial sector. Therefore, MyID can be used for OTP reissuance, password change, and login method change.
◇"DID is suitable for Internet-based businesses…It will expand quickly in non-financial sectors"
The introduction of DID in non-financial sectors is actively discussed. Partners of MyID Alliance, E-Commerce and O2O, are collaborating to implement and apply the DID service.
The blockchain industry expects the importance of DID to increase today, where more than 1.1 million of the 7.7 billion people in the world are restricted from exercising their rights because they cannot authenticate themselves. The Financial Action Task Force (FATF), which does not officially recognize cryptocurrencies for fear of money laundering, also actively researches DID.
Park said, "The FATF has officially adopted guidelines for applying FATF international standards using DID." "DID will be used effectively in cross-border (individual and institutional) financial transactions," he added.
He expects DID to play a key role in expanding the business of the Fourth Industrial Revolution. Park said, "DID is very suitable for Internet-based high-reliability transactions without borders." "There will be a new business model that generates a variety of added values based on DID," he added.
Song Hwa-yeon(2020.03.03) "코로나19로 비대면 디지털 거래 활발…DID가 4차산업 바꿀 것"
retrieved from https://www.news1.kr/articles/?3860307