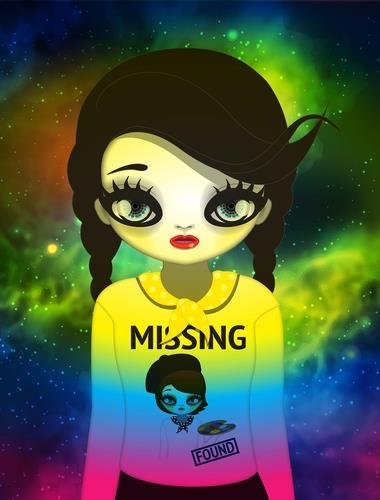 They have started to take off in South Korea, bustling with crypto enthusiasts and young artists eager to find new sales outlets for their works.
In March, the country's first-ever NFT auction took place, and "Missing and Found," Kim's 10-second animated artwork, sold for 288 Ethereum (ETH), equivalent to 600 million won, or $537,000, at that time. It is now worth more than 1.4 billion won since the virtual currency rose in value. Ethereum is the second-most valuable cryptocurrency after Bitcoin.
"I thought it was important to be a first mover. By the time when everyone else is doing it, it would already be too late," Kim said in a recent interview.
Selling her first NFT felt adventurous and refreshing, she said, as she was looking for "a new value" in her work, as well as "a new market."
"I didn't expect to receive such huge interest," she said of the auction result. "I was blown away."
Still many people must be scratching their heads, wondering what all the fuss is about.
NFTs are digital assets that have identifying information and are permanently traceable through a network of computers. They provide the digital art world, which, by nature, is prone to endless duplication, with much-needed provenance and proof of authenticity. Plus, there is a feature that enables creators to receive a royalty whenever the NFT changes hands.
"There is really nothing negative about NFTs," a South Korean artist, who goes by the name Mr. Misang, meaning Mr. Unknown in Korean, said in a phone interview.
Mr. Misang is currently the second-highest grossing artist of all time on the global NFT trading platform of SuperRare. The cumulative transactional amount of his "Modern Life is Rubbish" series totaled $1.76 million as of May 13, according to the service.
Unlike OpenSea, also an NFT platform where anyone can upload their works, SuperRare provides a curatorial service of selected artists based on an internal screening process.
His achievements are astonishing given that he learned about NFTs only early this year, when an Instagram user, whom he had not known, tagged him on the user's Instagram's Story, saying Mr. Misang would definitely become hot if only he joined the crypto art scene.
Intrigued, he started to dig in. It did not take long before he concluded that it seemed "worth diving in," he said.
He worked on his years-old 2-D "Modern Life" series and turned it into 3-D animated works to make it more appealing as crypto artworks. The series revolves around two characters, Franken AJE and Mr. Misang, and modern society surrounding them in a psychedelic style.
Having a stable sales channel for his works allowed him to stop taking contract illustration works and to focus solely on the works that he enjoys doing, he said.
"The best thing about NFTs is that I can now sell my work. Previously, there was not much of a market for it," he said.
Fashion artist Kim Ju-yeon said NFTs seemed like a good way to help protect designers from prevalent copyright violations.
By using blockchain technology, the fashion industry can build a copyright protection system, like that of the music market, she said.
Woo Jae-yeon(2021.05.13) Bubble? No, young Korean artists see crypto art as fresh opportunity
retrieved from https://en.yna.co.kr/view/AEN20210512010100315